A co-worker once explained to me that the mountains in the region where he was living and pastoring were like his mother. But the mountains in the part of Japan where he grew up were like his father. Don't ask me to explain exactly what he meant because he had a habit of frequently making rather enigmatic statements! 🙂 But I recently had the opportunity to see lots of mountains in short period of time and I will concur that different mountains evoke different feelings. In my most recent blog post I shared a few images from my trip up Mt. Akagi on May 1st. In particular I was drawn in by the images of Kurobi, the highest peak on Akagi, with the aqua-blue water of Lake Onuma in the foreground. Even though it's the highest of several peaks that make up Mt. Akagi, it isn't visible from anywhere down on the flat plains south of the mountain because it's obscured by other peaks in the foreground. It isn't until you make the long drive up the winding road, go over the pass and down into massive crater that makes up the top of Akagi that this scenery unfolds. Sort of like a hidden treasure; speaking of which, that is exactly what Mt. Akagi is famous for here in Japan. Legend has it that huge amounts of government owned gold were buried somewhere on this mountain in the latter half of the 19th century when leaders realized that the feudal government was about to collapse. One family in particular has been looking for that gold for four generations and is still at it! For all we know, the entrance to the cave and its treasure could be somewhere in the image below. If you want to come and join the hunt we'll be happy to provide hot baths and a place to sleep!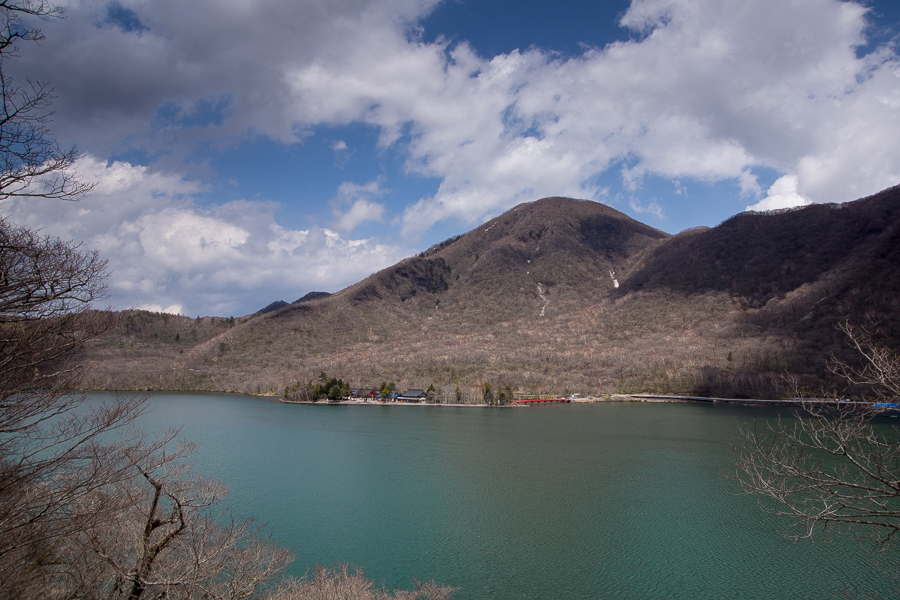 After my trip to Akagi I spent a couple days in Nagano at our cabin by lake Nojiri. Once again, the mountain view are rather spectacular. Although Mt. Myoko is actually across the prefectural boarder in Niigata, the views from around Lake Nojiri are a big part of what makes it such a lovely spot. Myoko is a rugged looking mountain with jagged rocky outcrops and cliffs near the summit. Buried under a deep blanket of snow all winter, it is just now finally emerging.
Sunday started early. I had to be in the coastal city of Odawara by 10AM and being late wasn't really an option since I was preaching at the Sakawa Church. One of the drawbacks of holidays in Japan is traffic. Trips that normally take two or three hours can turn into day-long nightmares! Even though I didn't think there would be much traffic going the direction I was headed, I didn't want to take any chances. I woke up at 3:30AM and was out the door by 3:45AM. It was a beautiful drive that took me through some of the Japan Alps. Around 5AM I stopped at the Obasute rest area. For those of you who don't understand Japanese, the name of this town means "where old ladies are abandoned". It isn't clear whether the folklore is based in any actual historical practice or not, but legend has it that in times of famine or drought, when resources were tight, the elderly would be taken to remote places in the mountains and left there. Grizzly as that sounds, the scene from Obasute at 5AM was the exact opposite. The eastern sky was a beautiful gradient of orange, illuminating layer upon layer of soft-looking mountain ranges, and reflected in the Chikuma River. I was immersed in the beauty and shot an entire roll of Velvia 100F film on one of my favorite medium format cameras, the Pentax 645N!
Mesmerized as I was, I had a sermon to preach at a church down by the beach so I kept driving. As the sun rose in the east the morning light revealed towering peaks right in front of me. These are the Northern Alps, otherwise known as the Hida Mountain Range and they are some of the highest peaks in Japan other than Mt. Fuji.
By 6AM I was at Lake Suwa, another large body of water surrounded by mountains. No film this time; just a few quick snaps with the digital camera.
From Lake Suwa I headed south and soon had a clear view of the Southern Alps, or the Akaishi Mountain Range. I was almost thru Japan's most mountainous region and it wasn't even 7AM!
I knew I was getting close when I saw way ahead in the distance, the feint outline of Mt. Fuji. Unlike most other high mountains in Japan, Fuji stands alone, at 3,776 meters.  The next highest mountains are all under 3,200 meters. It isn't nestled in a range of mountains but rather rises from the coast of Suruga Bay and the five lakes that surround it, forming an almost perfect cone. It looks like something a child would design in a sand box; just an isolated symmetrical cone. As I kept driving down the road the monolith kept getting closer and closer.
By 7AM I was along the shores of Lake Kawaguchi, where the horizon is completely dominated by Japan's most famous mountain. I kept snapping away and the road lead me from the north, around the eastern flank of the peak.
As I made my way around the mountain I saw another photographer on the side of the road and then realized that the mountain was now in my rear view mirror and I was heading away from it. So far I hadn't hit any traffic at all and was making great time so I pulled over, turned around and headed back to the spot where I saw the photographer. It was fenced off with a locked gate. But I drove up a small nearby road that turned to gravel and opened out along the side of a large reservoir. The view of Fuji was perfect. So I parked, got out the beefy Pentax 67ii, loaded a roll of Velvia 100F and set it up on a sturdy tripod. Over the next 30 minutes or so I worked my way through yet another roll of film!
Thoroughly satisfied, I got back in the car and headed for the beach. I reached my destination by 9:30AM and felt incredibly refreshed and energized by what I'd expected would be a long, arduous drive.
So what does each mountain convey? I'll let you be the judge of that. Thanks for reading. 🙂