Do you ever feel like your life is a rollercoaster?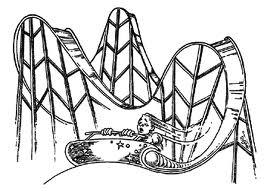 That is how I have felt over the past month as you have joined me in praying for someone to come help teach math and science at RFIS.  The journey has had a number of ups and downs but through them all we have seen the hand of God.  It began by early on having one person who was willing to explore the possibility and that was so encouraging.  However as the process continued it was clear this was not God's plan for this family at this time.  That was a discouraging day – especially as various people called others who had indicated an interest but none of them were the answer to our need.
As the final email came into my inbox confirming that the person called was not available …..I got another email asking "have you filled the spot?"  What an encouragement and then what a whirlwind as the next day we made contacts, worked with another mission and began a process of bringing Ellen Ellison to Cameroon.  Within two weeks she was approved by her mission Converge Worldwide (BGC) and now she needs support. 
Ellen grew up in Japan, herself a missionary kid (MK) – so she understands the needs of the MK's here at RFIS and also knows how important teachers are in the lives of their students.  I am so excited – would you consider supporting her ?
(In case you cannot read the contact information easily – here it is again: 
Return Check to: Converge Worldwide (BGC) Attn: Daniel Boerst, 2002 S. Arlington Heights Road, Arlington Heights, IL 60005
Questions?  Contact Carla Lenox:Office Phone: 847-879-3253  Email: carlal@convergeww.org)
More information will be coming but I did want to let you know that God has been working and make it so you can pray more specifically for Ellen and our students at RFIS.
Pray specifically for support to come flooding in for Ellen, for a visa to be delivered with no complications (and fast too) and for her to feel prepared to come.
Thanks for standing with us!