Getting our new Hilux off the barge was a huge undertaking.  Thanks to Dawili Debo's ingenuity, persistance and negotiating skills he got the truck safely off the barge and on to Gemena.
The barge arrived at the port of Akula Thursday night May 11 and Dawili headed down on Friday.  He found two things that were complications: 1) all the tubeless tires had gone flat and 2) there were 7 other barges between the one the truck and the port itself.  As there was no air compressor in Akula, he set the truck on blocks, took 2 wheels off at once and drove about 30 kms back N to the Ngwaka plantation where they had a compressor to put air back in the tires.
Saturday morning he started the big job of finding a way to get the truck across 7 barges to land.  Not only did he have to bridge across each barge, but he also had to negotiate space to move the truck through the people camping on the barges.  And making this even more complicated was the fact that the truck would not start.  The positive cable had been disconnected for the voyage thereby allowing the truck's internal computer to lose all it's memory.  So they had to push truck all the way.
He used planks to bridge the open gap between barges, but first he had to manually move the front of the truck (right in the photo) to get it lined up with where he could set the planks.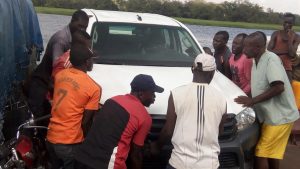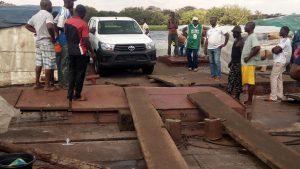 And next push it across the planks.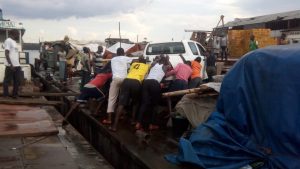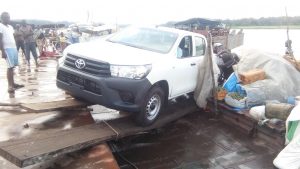 Some crossing were easy and some much more difficult.  To get on to one barge they have to push the truck uphill as the barge was 3 feet higher.  Then of course back down on the other side.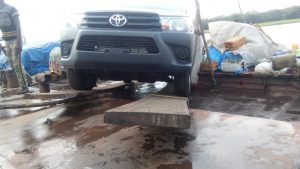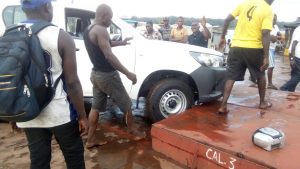 Oops.  Obstacle.  Have to move the front end over again.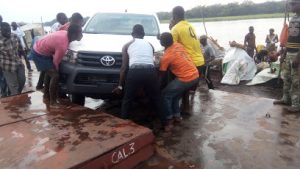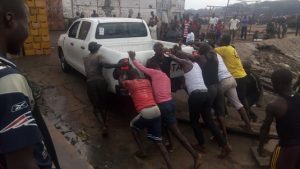 One final push and we are off the barges.  And now the final negotiations.