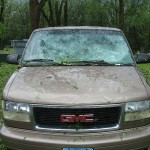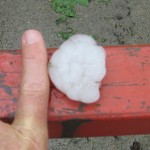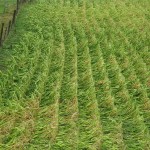 At 10h30 Sunday morning, August 9 in Eldora, IA there was a terrible hailstorm.  The hail was golf ball to tennis ball size with winds up to 70 mph.  My parents were there having spent the night following a wedding and were in church when the storm came through.  They all went downstairs when the lights went out.  When they came back up there was broken glass and hailstones in the sanctuary and hallways.  There car was spared a broken window, but every panel has hail damage.
My brother and family were camping nearby having gone to the same wedding.  The van above is theirs–totaled.  They sheltered in the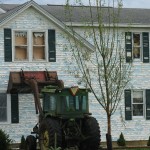 van and a car, also with a broken windshield, and actually a tent!  In a lot of ways it was hell on earth for a few minutes.  By God's grace they were spared injuries.
The damge that come in only 15 minutes from such a storm is overwhelming, indescribable.  Farmers in the area were some of the biggest losers as many fields were wiped out or suffered very heavy losses.  Every house in town was damaged and most probably need their roofs replaced.