Carl graduated from the Illinois Institute of Technology (IIT) Saturday May 16.  It was a great day.  We were blessed to have family present.  Cindy's parents flew up from FL and my parents drove in from IA.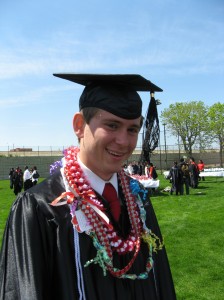 The one thing we didn't plan for was the sun and the photo shows that it was sunny.  The high was only to be 62 with a breeze and we were outside for the opening ceremony and the engineering college ceremony.  All told about 5 hours with the wait ahead of time to get seats.  So we all got too much sun and feel it now.
After graduation we had pizza all together.  FUN.
CONGRATULATIONS CARL!