Dear Family and Friends,
Wow.  Thanks for your patience with our time of blog silence.  The past month was full to the brim with family and friends as we celebrated Dad's life together, as well as getting involved in the everyday things like getting Mom & Dad's house ready to sell and the daily caretaking walk alongside Mom.  All the administrative arrangements regarding finances etc. were taken care of by our bro-in-love, Tim, bless his heart.  The house sold right away, the estate sale is this weekend, Oct. 19-20, and the jeep is included in that sale.  Both our sister, Lynn, and her hubby, Tim, have been our heroes in this whole complicated process, being our presence in Mom & Dad's lives while we are overseas.  Mom is happily settled in at their house, and Tim has taken on the responsibility of being her caretaker.  Lynn, of course, is also involved in Mom's care when she's home from her school librarian work. The two weeks we had with Mom at her house before we moved out were precious.  It was sweet to be able to help her navigate her days, starting with hugs in the morning and prayers and kisses at night as we tucked her into bed.  Oh how the Lord has blessed our family!  Please pray for Mom and the Bakers as they settle into a 3 person family routine.
Our bro, Scott, was able to come from Michigan, as were both of our sons, Josh from Indiana, and Sam from South Africa.  Thank you again, Kingsburger friends, for making the boys' trips possible!!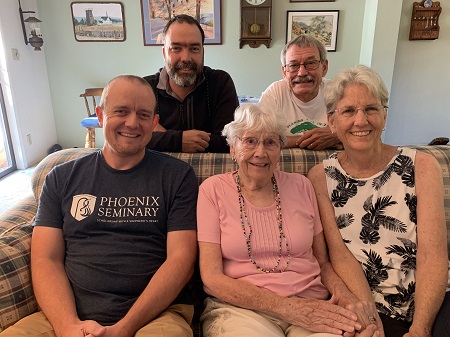 My sister, Laurel, and many dear friends came to share in our time together. Most of the cousins were there for the weekend of the memorial service, and you can imagine the noise and joy of that reunion!
We flew to Indiana and had a few days with Josh's family, getting in some Gramdee hugs and a sweet time of remembering (or trying to remember LOL) their great grandpa, Koko Tata.  We also were able to take care of some house building business for our apartment that's being built on the back of Josh & Kimia's farmhouse.
We are back in South Africa and so thankful to not have to travel anytime soon!
Thank you for praying for the trip, all went fine.  Jet lag is just about done and we're starting to pick up work where we left it as well as adding a few things here and there.  You'll hear soon what the news is, especially for me, Aleta, as I figure out what all I can fit in my schedule.  Please pray for us as we purpose to show God's love and grace to those we come in contact with.  Please also pray for direction for the Back 2 Eden project and for decisions about work.