Thanks to Josh Shinar's and Luke Turk's willingness to come and help us out, we now have lights that work at night, cell phones that work right inside our house, and internet that works right there in our living room!  We are thankful and blessed!  Thank you to all of you who have been praying for our technical woes to be resolved.  There are still some problems, but we are functioning quite well even so!  Here's Josh, caught in the act of actually reading a hard copy manual of our inverter, not a usual thing for our own personal nerd herd to be doing.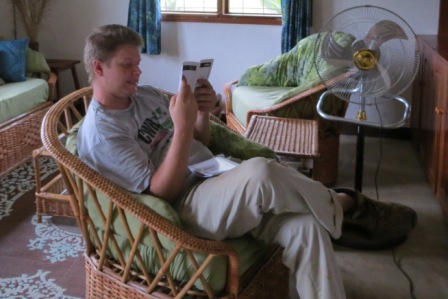 Here's Luke, setting up our booster antenna for our cell phones.  We used to have to walk up the hill to the garage to make phone calls, and could not receive any calls in our house.  Now, thanks to Luke's help with finding the antenna on the wannabe Craig's list of Yaounde, being the go between for arranging for it and paying for it, and then installing it, we now can have cell phone reception in our living room.   This was a long needed must for us staying out at the farm.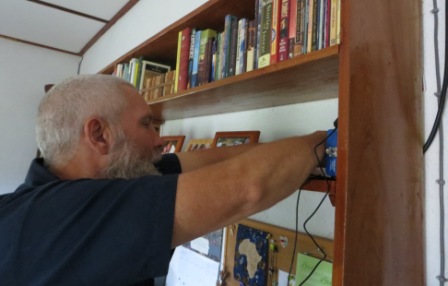 Thank you, Josh, for coming such a long way.  Thank you, Lori and Charlie, for loaning us your guy, and for being willing to have to go to Yaounde to wait for him!  Thank you Luke, for coming and helping us, time and time again.  You guys are the best!