Oh, what fun!  We had a super 2 days with the Shinars, and I can tell you honestly that though we miss them at Gamboula, it was wondrous to see them shine in this new place of ministry.   Josh was a delight with his enthusiasm over the great new system of internet he had installed for the whole station.   They have had some disappointments lately with believers, and Josh has taken some major responsibilities on just for the interim.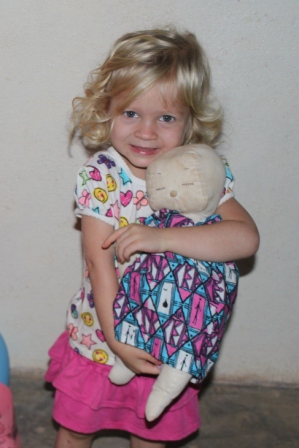 Charlie was fun, not just because she is the cutest little curly top, but she is a trip to have a conversation with.   She sure latched on to Grandpa Roy – they were coloring partners.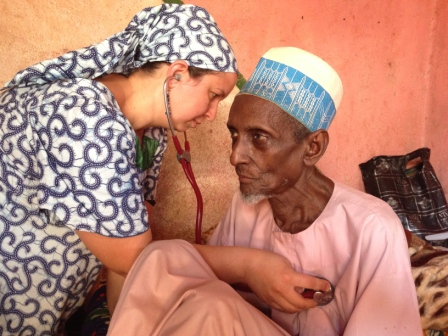 We had a tour of the very nicely kept hospital, and Lori has many new friends there, including Dr. Smith, one of the most humble and gentle men I've had the pleasure of meeting.  Lori does home visits to Fulani, and we were privileged to go with her to the home of one of the cutest little old men you'd ever hope to see.  He was hit by a motorcycle 8 months ago, resulting in 2 broken legs and a broken arm.  When we asked if he'd mind us taking pictures, he turned to me and asked me if I had any teeth for him!  Oh my goodness what a kick!  His 4 front top teeth are missing, and he's always asking Lori if she has teeth for him!  Well, when he found out I didn't just happen to have dentures in my pocket, he proceeded to pull out a mirror to make sure his hat was sitting exactly right on his head.   After 3 or maybe 4 adjustments, he was satisfied and let John take his photo (which for some reason disappeared from the camera).  He was SO serious, no smiles for the camera – partially because of his missing teeth, I suppose.
He sure was smiley as we talked to him.  He was at the point in his rehab that it was time for him to stand up for the first time in 8 months, so Lori and I helped him up.  He did have to be convinced beforehand that his legs wouldn't just break again under his weight.  (What weight?!?!—he probably weighs 90 lbs dripping wet!)  Though Lori was chatting with him in fulfulde the whole time, at one point he turned to me and said over and over again as if she wouldn't understand, "you tell Charlie's mama thank you, thank you".   Lori's eyes teared up, mine too, and she quickly changed the subject, but that was AWESOME.  What love and friendship has grown there!  Lori always takes along one of the Fulani guy believers, so that the door she opens by showering love and care can be followed up on with deep talk, heart sharing, and prayer.
We were thrilled to worship with Fulani Jesus followers and to meet the Shinars' friends, including some orphan boys who are lovingly being cared for believers on the station.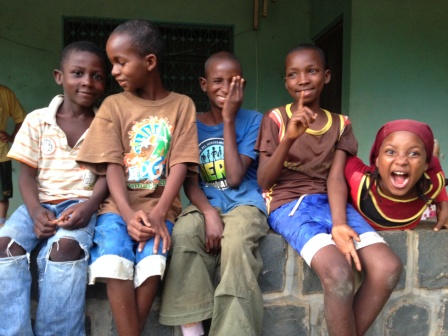 Our travels on the long road north were punctuated by beautiful scenery, very unlike what we are used to in CAR.  God is good, all the time!