This week has been an overall ag/development seminar for a group of Pygmies, who actually prefer to be called Bayaka.  There are 4 women in the group of 18, which is great.  They have been learning about how to farm and how to help their families be more healthy.  They've been hearing about God's love for them and how there can be hope for the future in more ways than one.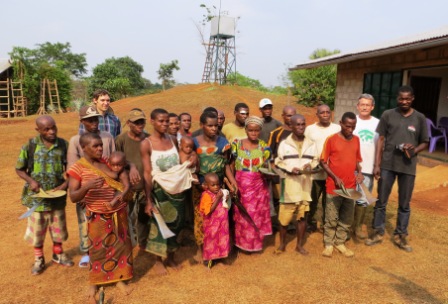 They treated us to a fun evening of a demonstration of their traditional singing, drumming, and dancing.  There was quite a crowd gathered to watch and lots of laughter was shared.  Their footwork was quite impressive, and the women had sort of a hula swaying move to their dancing.  A few of the men had brought along handcrafted necklaces to sell, made of jute and seeds from the rainforest (you can see them displayed on the branch in the foreground).
Please pray that as they return home, they will be able to show and share what they have learned.