We took a hike to explore a path to cross the river into Cameroon this morning.  Crazy me, I forgot to bring a hat or an umbrella to shade my head.  Goodness, try walking about 3 hours in the tropic sun, that last 30 minutes at noon, going uphill!  Never did a cool shower and umpteen glasses of water feel so good!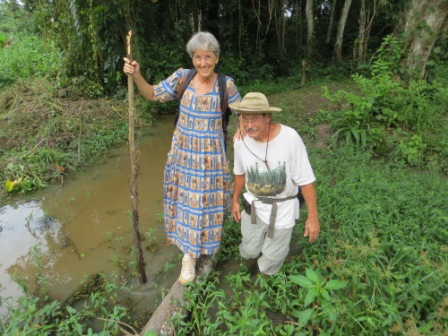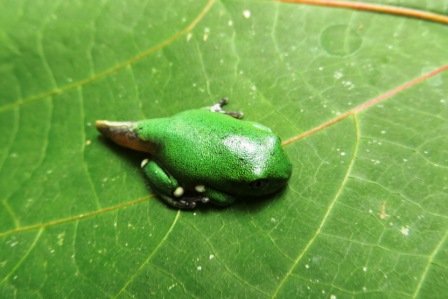 Sharp eyed Timothy spotted this little tree frog waiting for his pollywog tail to disintegrate or drop off, or whatever pollywog tails do.  We also saw orchids and lovely praying mantis', and met up with a very congenial Cameroon border guard, sitting on a stump next to the trail out in the middle of nowhere – well, about 3/4 of the way from the river which marks the border, to the town of Bomxxbite.
We crossed the river in one of these pirogues(dugout canoes), stepped into Cameroon and walked another 40 minutes or so to the Friday market, busy and colorful.  We stopped at an omelette shop and had tea and omelettes with sardines.  Well, some of us had them. (o;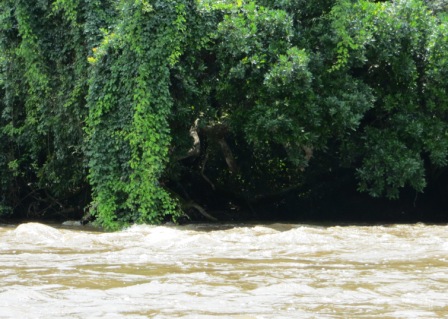 We then made our way back to the river, crossed again, through some pretty strong current, and hiked back, up to our home in the noonday sun!  It was a good trip, interesting to visit the big Friday market that we had never been to.   Pray that CAR will totally calm down and function well again, so that we won't ever need to hurry along the path we just explored today!