Okay, so we drove from our little podunk mission station/town in the bush to the bustling metropolis of Yaounde on Thursday.  It took us about 9 hours to cover about 315 miles over roads that evolve gradually from very rough, barely two lane dirt to very smooth, amply two lane asphalt.  We left a sparsely populated COUNTRY of about 5 million people to a densely populated CITY of about 2.5 million.  At Gamboula, our home, we are absolutely spoiled by having electricity and potable tap water 24/7.  The true blessing of this was emphasized when we arrived to the BIG city and were greeted with many hour long gaps in the electricity and a half day without running water.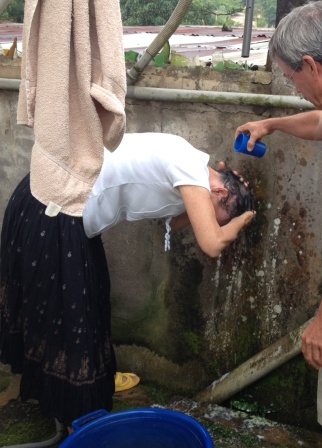 Ron & Janet Ziegelbaur, our Yaounde hosts, thankfully have buckets of rainwater and candles galore available for use.  They are accustomed to these shortages, and have sometimes gone for many days (even a week or more) without water and/or electricity.  You can see me using our two laptops for desks and Roy helping me wash my hair outside with rainwater.  Didn't my sister especially try to get rainwater to wash her hair when she was younger because it is supposed to make your hair soft???  Never mind that the bucket had a bit of algae in the bottom, and never mind that the dog came and drank out of it as we were finishing up.  A little dog saliva is a good substitute for gel, right??!!!  (o;
Take a moment to thank God for your utilities, and to pray for the millions who cook over open fires and have to walk long distances to the closest river or water source!!