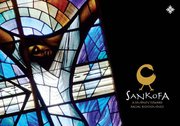 Roy & I were able to participate in a Sankofa journey at the beginning of February.  If you can make out the logo of a chicken/bird looking back over its shoulder, that signifies that Sankofa basically means "looking back so we can move forward".  We were SO blessed to be able to make this journey, to come to grips with our ignorance about racial issues, to grapple with feelings of guilt about our unknowing AND knowing participation in bringing other ethnic groups down, to come to a better understanding of what our brothers and sisters of other ethnic groups face every day of their lives.  For this 3 day journey, we were paired with African Americans, and we listened and observed and shared together as we travelled, on a bus, to civil rights' sites in the south.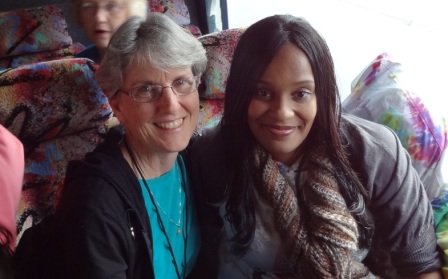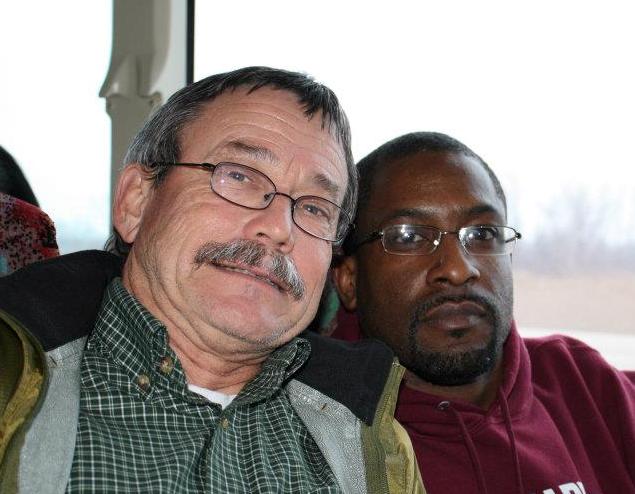 Sorry this isn't a better photo, but that's how it goes sometimes!
We overnighted on the bus the first night as we drove from Chicago to Birmingham, AL.  We quickly got to know our partners for the trip; eating, sleeping, laughing, praying, sharing, singing, crying, and just "being" next to each other for 72 hours straight.  We visited the 16th St. church where 4 little girls lost their lives in a bombing in 1963, we were blessed by the sharing of a remarkable and humble woman who was one of the children of the march, who had a fire hose turned on her full blast because she was with a group of people audacious enough to peaceably assemble and march to claim their civil rights.  We walked across the bridge that was the site of "Bloody Sunday", when another group of people, peaceably walking, unarmed, were set upon by gassing and billy clubs, this from armed police officers.  We stood at the base of the balcony where Rev. Dr. Martin Luther King Jr. was shot…all these and many more events comprised our long weekend.  We shared with our seatmates and with the whole group, we worshipped together and supped together, and the heartbreak and the eye-opening of this experience have changed me.  I hope that I can make good on my promise to God and myself to not claim ignorance again, to seek after knowledge and work towards justice, to seek forgiveness and a better understanding of my African friends and colleagues in C.A.R., to not sit by and listen to that which hurts and brings others down.  I know that these things will be acheived only by the Lord's strength and grace in my life.  If you have a chance, try to participate in a Sankofa journey or a Journey to Mosaics – go to http://www.covchurch.org/justice/racial-righteousness/ for information!   You will never be the same, and one more step will be made towards true equality and justice in our world.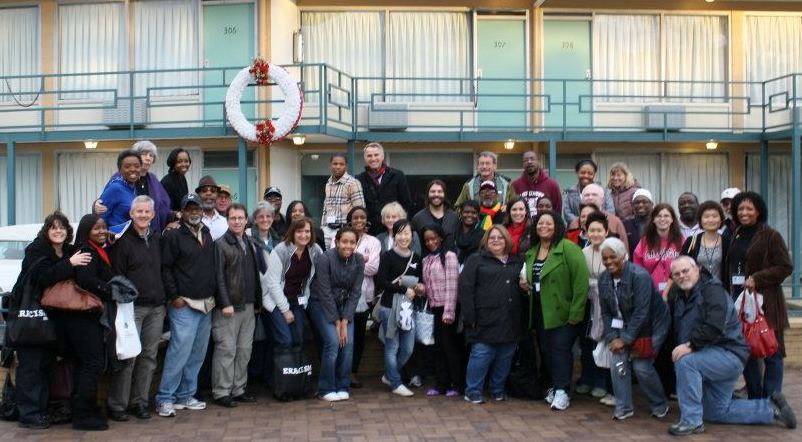 The whole group, in front of the balcony where Rev. Dr. Martin Luther King, Jr., lost his life and gained heaven