We have had an awesome month with our supporters and our family and all of our travels up and down the state of California have been uneventful.  We have been loaned cars for the whole month and are so blessed and humbled by people's generosity!
We will be attended Midwinter (Covenant pastors' conference in Chicago) Jan. 30 – Feb. 3, and then went on a Sankofa journey Feb. 3-6. We were stretched and we learned and were softened on this journey towards racial righteousness.
We will be in Tulsa, OK, this month, so please pray that travels and our times with our contacts there will be blessed.
Thank you for your prayers for our Fulani Jesus following friends; according to a recent and very brief report from our contact (the main
evangelist/leader) within the group, things "went well".  We're hoping and praying that his cryptic message indicates that they unanimously decided to keep following the Messiah with their whole hearts.
The Covenant World  Relief/Foods Resource Bank visit to Gamboula and CEFA went very well.  They were also able to visit a couple of  villages that have very active ag co-operatives.
The cargo truck for CEFA has arrived and is insured and ready to go.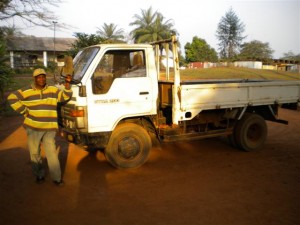 Thank you for taking the time to pray!