Desiré moved to our area about a year and a half ago, coming originally to work for our colleagues, the Cones, and always keeping the hope of settling here and working in gardening and farming. He has been a boon to us, showing up at the door with wonderful fresh veggies to sell. He definitely has a green thumb. Because he is such a high energy guy, he has been chosen to be the manager of the model farm that is being established in part by CEFA. This model farm will have regular crops such as peanuts and corn and manioc, but it will also have extensive vegetable gardens and fish ponds and hopefully a pair for oxen for plowing the fields. Here is the house being built out at the farm: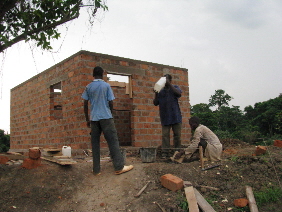 Here are some veggie gardens already on the way to production, and that's Desiré, outstanding in his field. Smile.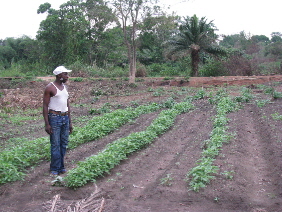 Here are the fishponds being reconstructed.