How in the world is it already the middle of January!?!?  It feels to me like the holidays came and went in a flash and now we find ourselves well into 2017 and preparing for a busy spring ahead.  Since things have been a little quiet on the blog lately, thought we would just quick give you a run down of the highlights and take a quick look at what is ahead.
We jumped into December celebrating Quito Days with the youth from our church, Rios de Agua Viva. Here in Ecuador, we do not only celebrate a national independence day, but also the independence of all of the major cities.  So, the 6th of December is met with a day free of school and work to celebrate and remember the liberation of the country's capital from Spain.  The youth from our church came over for a day of parrilladas (BBQ), silly games, Christmas crafts and sharing stories.  Good times had by all.
Chris traveled to the coast for another week of teaching in the MIC program.  This time he lectured and led discussion about World Religions and was able to attend the the closing service for the students here in Ecuador.  They all dispersed around the globe to spend Christmas with their families and should all now be gathered back together again in Sweden to continue the program.
After MIC, Chris traveled with our colleague, Erik Amundsen, to a few of the areas most affected by the earthquake that rocked Ecuador's coast in April of 2016.  Erik is in the process of partnering with the Covenant churches on the coast in writing a grant proposal from Covenant World Relief for the ongoing recovery work.  The road ahead to rebuild is a long one and there will continue to be ongoing need for support in the years to come.  Chris was able to meet a few of the key leaders in the area, able to hear their stories and pray with and for them as they continue to live and minister in a reality that is lined with challenges.
Right before Christmas, we were so happy to host the annual IPEE office staff Christmas party at our house.  I cooked a huge dinner of turkey with all the traditional Ecuadorian and American trimmings.  Games were played, avocados were picked from our trees, and conversation abounded.
Shortly after the party, a stomach bug took up residence in our house and the week before Christmas was spent with all of us taking our turn in bed for at least 24 hours.  It was a pretty miserable way to spend part of the kid's Christmas vacation, but sure helped us all to slow down a little bit in a season that can often feel to filled with to-do lists and much on the calendar.  There were plenty of hopes that went unrealised, such as making Christmas cookies for all of our neighbours, but we were grateful for warm beds and plenty of Christmas movies to watch while we recovered.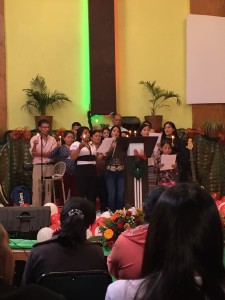 My mom flew down to be with us on Christmas day and stayed for about a week.  I am always grateful for time with family, but since these visits are now few and far between I find myself trying to be even more present in every sacred moment. The kids were elated to be with Grandma again and it did my heart so good to hear them talking with anticipation about snuggling in bed with her in the mornings in the days before her arrival – and not so much about the suitcase of Christmas gifts she brought with her.  What a gift to know love so unconditional!  A few days later one of our best friends, Dave, flew down to spend some time with us as well.  It was good for all of our souls to have these visits, especially during a time of year when we seem to be missing "home" so much.
We spent New Year's Eve at our home.  We had a full table of friends, an evening spent answering deep and real questions that my mom is always so good at asking and we took part in the Ecuadorian tradition of burning el año viejo, the old year.  In the days leading up to New Year's Eve, one can find effigies on nearly every street corner representing the year that is coming to an end.  At midnight, the streets are a blaze with families and neighbours gathering to say good bye to the old year and ring in the new!
We are now well into the new year and a busy season of ministry.  Tonight we will pick up the Regional Coordinators for Latin America of the ECC from the airport who will stay with us for the next few days while we have mission meetings.  We will then all travel to Santo Domingo for the Annual Meeting of IPEE this weekend.  We ask for your prayers as folks travel from all over the country to make important decisions for the church and elect new leadership.  After that, Chris will head to the States for his final interview in the ordination process and will return in time for a staff retreat here of the Covenant missionaries.  And we are busy preparing for a joint seminary course that we will be hosting here in Ecuador in partnership with North Park Theological Seminary called United Against Human Trafficking – but more on that to come!
Hoping that wherever you were to see 2016 come to a close, you were able to enjoy it with ones that you love.  And may we boldly cling to Christ and be unwavering in our commitment to His Kingdom of love and peace and hope and justice in all that 2017 brings.