This past week it has been repeated that my (Chris') grandfather was "a man of few words." To try to pay tribute to one of the most influential people in my life in a few words is extremely difficult. Last Sunday, on All Saints Day, I sat with my extended family in a packed sanctuary to say good-bye and lay my "Grandpa Kay," John, to rest in God's peace.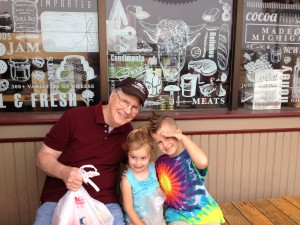 My grandfather influenced many people in many spheres. While to me and the other six grandchildren and ten great-grandchildren he was simply "Grandpa Kay," he had an impact on and faithful testimony to those he worked with as an engineer at Ford Motor Company. He was a lay leader at the Dearborn Heights Salvation Army Citadel, teaching young adult Sunday school for thirty-four years and playing the tuba in the brass band for sixty-eight years. To my grandmother he was a companion on the journey of life for sixty years, retiring early to spend time with her and the family.
Three words have been circulating in my mind this past week as I sat with him and the family. Up to his last moments my grandfather embodied wisdom, humility, and generosity.
Wise- As I said before Grandpa was a man of few words, but he had a depth of wisdom. He would always listen, really listen, and patiently contemplate before speaking. In nearly all of life's decisions I have called my grandparents to discuss, knowing that they would listen first and choose carefully their response. He lived wisely and modestly, never forcing his advice on anyone, but everyone listened when he spoke.
Humble- My grandpa was my hero, as many grandfathers are to most kids. That admiration over the years has compounded as I realize how humble my grandfather was. He was a reluctant hero. He served his family, community, and country with such faithfulness and ability, but never expected anything. He never talked much of his achievements or thought himself very important.
Grandpa's humility could be summed in the fact that he was a friend to all. From the oldest to the youngest, the wealthiest to the disenfranchised he had friends, and treated them as such, in all walks of life. He made each person felt listened to and appreciated. I am grateful for such an example of humility.
Generous- Grandpa invested early, lived modestly and simply, and gave constantly. With his giving there were no expectations in return. A loan from John Kay came interest free, with no demands. The kind of stewardship modeled in scripture. He not only loaned, but he gave. He gave cheerfully, and never with the expectation he would be recognized. Countless stories have poured in of how my Grandpa assisted not only his family, but so many in his community with finances. Stories we never knew, and he never expected to be known.
He was also generous with his time. He was committed to serving his church and community. He and my grandma travelled to be with family and friends all over. He always seemed to have time.
He always made sure as he left a visit to say how proud he was of us. He gave us the advice to say in the here and now all the tributes and accolades to a person that has influenced us…not when they have passed on, but now, so they know it and you don't regret it later. So I began an inherited habit, awkward at first, to write, say or text, not elaborately but simply, as he would do, the simple acknowledgement and gratitude to people in my life. We might not get to say everything we wished to everyone in our life, but it is a step toward a humble and generous spirit.
Tuesday evening, my grandpa's pastors from the Salvation Army came to visit him. Per usual they asked if there was particular scripture he might want read. Without delay he responded, "I have always found Romans 8 verse 26 comforting. We don't always know what to pray, but God is with us." The passage reads:
In the same way, the Spirit comes to help us, weak as we are. For we do not know how we ought to pray; the Spirit himself pleads with God for us in sighs that words cannot express. And God, who sees into our hearts, knows what the thought of the Spirit is: because the Spirit pleads with God on behalf of his people and in accordance with his will.
I think the connecting theme in my grandfather's life is prayer. The depth of wisdom, the character of humility, and spirit of generosity he embodied came from a grounding in someone beyond himself, in the Spirit of God. And in death, as he was in life, Grandpa Kay found peace in his Redeemer and Friend.
Blessed be his memory.