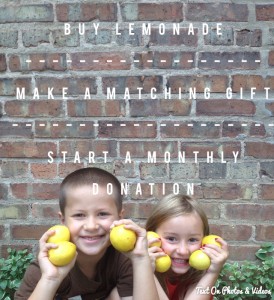 The kids are taking to the corner tomorrow with lemonade and home-made cookies in hand and just as promised there are a few different ways to help them in their fundraising efforts!
1.  If you are in Chicago, come on by!  We will be selling lemonade and cookies from 12-3pm, Wednesday, August 12th.  (Let me know if you need the details on where we will be setting up shop!)
2.  Make a matching gift!  Next week we will post and let you know how much money the kids were able to raise.  Make a pledge to send a donation to match whatever the kiddos make.
3.  Start a monthly donation!  If you have been thinking about joining in partnership and becoming one of our monthly supporters, now is the time!  Click here  to set up monthly giving and we will let B and E know that their efforts helped to spur others to join in this journey with us and the Ecuadorian Covenant Church.
Don't feel like you need to commit to just one!  Excited to see where this little venture takes us!