It was fun to catch up this past week with Oscar Horta, President of Jovenes del Pacto Internacional (Covenant Youth International). This group is a network of youth leaders and ministries of the countries in Latin America that have Covenant churches/ministries. It is a part of CIPE. As they describe themselves, they are "A network that brings together the Covenant youth ministries in Latin America with the purpose of promoting the development of these youth ministries, seeking the participation of the Covenant Church in the United States and Europe." Last summer there was an international youth camp, held here in Medellin, led by Jovenes del Pacto Internacional (JOPI) and one of the major concerns that was brought up was the formation of youth leaders and the discipleship of youth and young adults.
Over the past year, the organizing committee (made up of one representative for each country), has been working on a plan that would focus on formation with youth and youth leaders over the course of three years in Latin America. It was exciting to hear about their newest plans and see Oscar participating in an international meeting via "the web."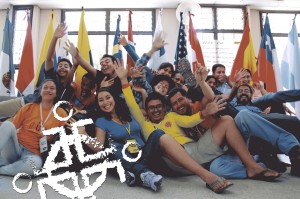 Please pray for these youth leaders as they work collectively to raise up the next generation in their churches and countries.