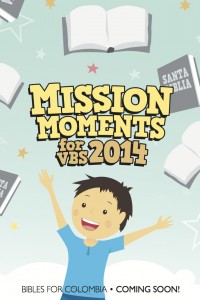 This summer you and your church have an opportunity to partner with children in Colombia. New churches throughout Colombia are reaching out to individuals and families in new neighborhoods and people are coming to faith. The children are a vital part of the life and growth in these new churches, and according to statistics make up 50% of the Covenant church population.  They often make up the biggest number of people who attend the churches and are often the first people in their families to come to faith. These children are growing together, as they not only learn about the Bible, but also grow in their faith in Christ and are equipped to share their faith with others. Many of the new Covenant churches begin with very small budgets and limited resources. They work with at-risk populations in low-income neighborhoods. They want to disciple children and create a welcoming environment that stimulates learning and faith development. Through Bible in Their Hands, Jesus in Their Lives your children will provide Bibles, basic classroom equipment, and educational materials for new Covenant churches in Colombia.
Through the Covenant Mission Moments for VBS, the children in your church will have the opportunity to:
Serve God and children in Colombia
Foster a larger view of God's kingdom
Connect with children in Colombia through their stories and videos
Learn what it is like to be a child in Colombia
Provide Colombian children with new, fun ways to learn about God.
Download "Bibles in their Hands, Jesus in their Lives," Mission Moments for VBS materials at: http://www.covchurch.org/mission/projects/vbs-project/
Together we can change the lives of children and their families and impact their communities.