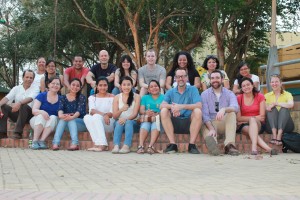 In 1995, I (Julio) saw for the first time a magazine about North Park Theological Seminary. I was at the Sander's (Missionaries) house in Bogota, Colombia when I saw it and thought to myself, "One day I would like to study there." In 2009, I was able to start my Masters in Divinity and finished it in 2012. God listened to my short prayer. When I was at North Park I had the privilege of having Paul DeNeui as my advisor. During our times together we talked about Colombia and the possibility of North Park taking a class to Colombia one day. It seemed a bit of an impossibility as there were security issues regarding Colombia that prevented North Park from sending students. Still, we continued to talk and pray and the doors were opened this month for a team of 6 people to come and study in Colombia.
In March of 2013 Paul DeNeui, Janice Kelly (Missionary to Mexico) and Ernesto (Mexican pastor) came to Colombia and along with the covenant missionaries in Colombia and the Covenant Church of Colombia, we began the journey of planning a 10 day trip that included people from Colombia, Mexico and students from North Park Theological Seminary. After all our planning and prayers this dream became a reality this past week.  Nineteen people from these three countries came together and spent ten days talking about the topic of human traffic and different topics relate to that theme (the role of abuse, the role of the family, healthy sexuality, gender, causes and consequences, etc).  The course was held in three different locations with the purpose of not only learning about the topic, but also about Colombian cultures, social economic aspects and engaging the different communities in Colombia in the conversation. We were in Medellin (city of two million people- Nice weather) Monteria (City of 450.000 proximally- very hot weather) and la Y (500 people-hot weather), which is at a crossroads of two major highways where trafficking, prostitution and abuse occur frequently but aren't often addressed.
During the 10 days people we were able to interact with each other, with families were they stayed, and with the communities in which we lived and served. We not only listened to lectures, but we also interacted with social programs, and elementary school,  and the community around local Covenant churches.  Every member of the group participated in the learning and teaching. It was a powerful time for participants themselves to receiving healing in different areas of their lives. It was another reminder of just how prevalent abuse is in our homes and churches.  Going forward we not only have an international network of Covenant people fighting together against human trafficking,  but also a international family of Covenanters who believe that God is able to do more than than we image or believe.