As much as I miss having my husband around the past couple weeks, I'm thrilled that he gets to do what he loves: teach, dialogue with people, work construction in the hot sun of Monteria with a team of dear brothers and sisters, etc.
Julio has had a busy month, leading workshops for teachers, social workers, pastors, lay leaders on the whole mission of the church, in partnership with the APC (Asociacion Pacto Colombia), the social ministry association of the Covenant in Colombia. He lead workshops in Medellin, Bogota and Barranquilla.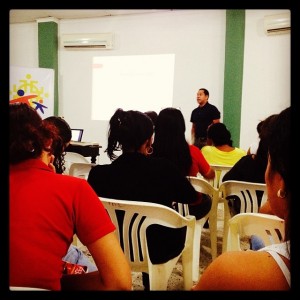 Then this week he joined a team from Bayside Church (Sacramento) in Monteria to continue construction on the Family Restoration Center Church. They are working with Pastor Luis and others from the church to complete a ministry center in the church. It is hot and dirty work, but they are loving the time to be together!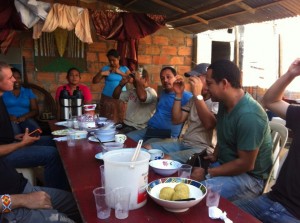 Here in Medellin, I had the opportunity to witness the marriage of a wonderful young couple we've known since they were in high school. It was a beautiful celebration and the church was filled with family and friends showing their love and support. Congratulations to Keidy and Steven.