I (Julio) have known Leonel since he started his Christian life, which is about fourteen years ago. Leo has been serving in a local church in youth ministry since he began to follow Christ. He especially loves soccer and  has used soccer as a tool to reach children and youth for Christ in his neighborhood. He is very respected and loved among the people in his community. However, because of the economic situation in his family he and his mother, two sisters and his wife have decided to start a small bussines. They are now designing and producing blouses. They sell them for a very good price to locals store. They have started small in the living room of their house, but thank God the business is growing and they are able to expand little by little.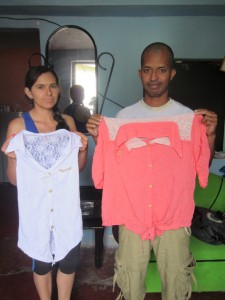 Leo and Yamile and some of the blouses they make
 At Leo's family's house, where they make the blouses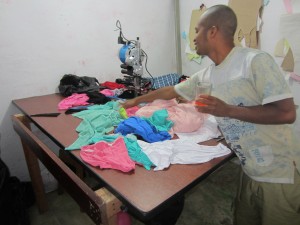 Getting the blouses ready to go to the stores
Leo now loves going around and offering there products to the people in the city of Medellin and also to other towns close by. Leo is the kind of person that I love to spend time with and support not only in prayer, but also with any kind of support that he would need to improve  his quality of life and to strengthen this small business.