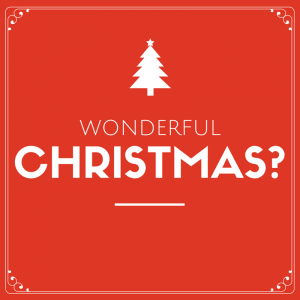 Note: This post was written by Pastor Kelly Johnston of Wakefield (Nebraska) Covenant Church and published in The Covenant Courier, her congregation's newsletter. We're sharing it here because it captures an important idea for all of us to remember as we enter the Christmas season: our struggles don't up and disappear as we turn the page (or swipe the screen) on our calendar. Let us be people who remember to notice others, who are willing to have spiritual conversation, and who will listen faithfully without judging to those who feel hurt and pain this Christmas. [Disclosure: Pastor Kelly is the daughter of Meagan Gillan, Director of Women Ministries for the Covenant Church.]
Dear Church,
Here we go again! Christmas is coming, and it's supposedly the most wonderful time of the year, right? It's the hap-happiest season of all! Right? Unfortunately, for many of us, hanging Christmas decorations, selecting gifts for loved ones, and nibbling on Christmas cookies simply doesn't take away the sadness that lingers in the heart.
In the glow of Christmas lights, we need to remember the darkness that many of our friends and neighbors are facing right now. Some are struggling with depression – something much deeper than a case of the blues, passing after a few days. For some, this is the first Christmas without a loved one, and the holiday will never be the same. For others, this is the first Christmas after losing everything during this summer's tornadoes, and the holiday will look different in their new reality.
As Christians, we can't ignore the pain and brokenness of our world, especially during this season. Otherwise, we will forget why God sent Jesus in the first place. He did not send Jesus so we would all get new pajamas at least once a year. He did not send Jesus so we'd all fatten up a bit during the cold months.
God sent Jesus to break the power of sin, so that we no longer live separated from God. God sent Jesus to break the power of death, so that we have hope beyond this fleeting life. God sent Jesus to do away with Satan and all his schemes, so that the world finally is ruled by the one true and perfect King.
This is the hope of Christmas – that the true, living Word of God became flesh. Coming to this sad little planet as a crying baby boy, God took up residence among us to do a new work in our world and in our lives.
I pray that this Christmas will be the opportunity for some of our friends and neighbors who have been walking in darkness to finally see the great light of Jesus Christ, who offers hope, joy, and peace. Remember that the world won't know him unless we make him known in our words and actions. Just as God sent Jesus to rescue the world from sin, he is also sending us to be his ambassadors.
This Christmas, let's walk in the light of Christ and share it with our world.
Pastor Kelly
Kelly Gillan Johnston hails from Tucson, Arizona and lives in Wakefield, Nebraska with her middle school teacher husband, Greg, and twin boys, Parker and Silas, who are pretty busy 15-month-olds. She loves being outdoors, enjoying a great cup of coffee, and doing anything creative that she can squeeze into her mostly-full days.