Today's post is written by Chris Logan, Pastor of Worship Arts at Community Covenant Church in Lenexa, KS.
"And the one sitting on the throne said, 'Look, I am making everything new!' And then he said to me, 'Write this down, for what I tell you is trustworthy and true.'" [Revelation 21:5]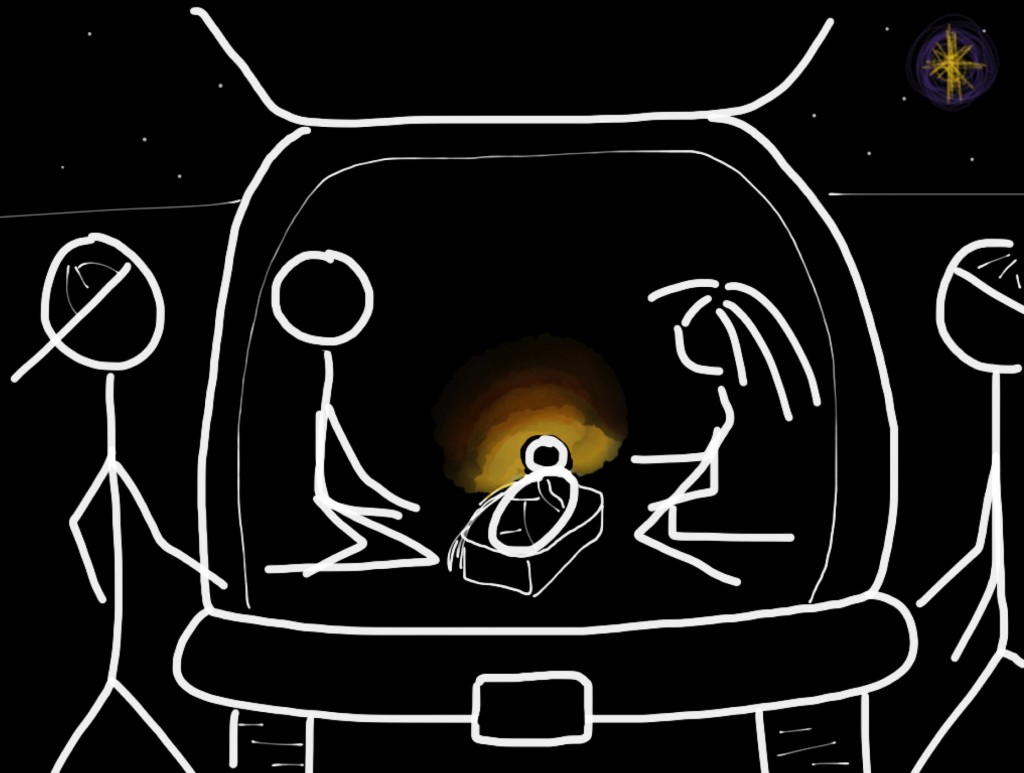 Tradition and Novelty have, at best, a tenuous relationship in the Church, especially at Christmas (yes, it's still Christmas, liturgically speaking). It's a stress point for many creative-types, myself included. The sentimentality of "what we've always done" (a stark contrast to the rest of the year in our culture, by the way) tends to dominate our lives for at least the four-ish weeks of Advent; we are judged by the way we can keep to the traditions of the season, and if we lament this at all, we're called a "scrooge." While some of the traditions have lost any meaning for us beyond sentimentality (insert the one that annoys you most), some of these traditions continue to inspire most of us towards worship of the Creator (even the most "scrooge-ish" person will have a hard time arguing with candles in a dark room singing … well, anything, really).
It's a matter of perspective.
Most years, I'm the guy who can't wait for Christmas to be over; I couldn't stand the same music in the same way, couldn't stand the extra work, and couldn't stand the materialism, consumerism, all the 'isms. Bah humbug for me. This year, however, I decided at the beginning to try and experience it in a way that might lead me to grow. It changed a lot; many of the songs still annoyed me (though I did change a few chord progressions to make them more interesting), but I found that going into it with the question, "Where is Jesus here?" brought new meaning to things that had, in my mind, become zombies. "O Holy Night," for example, suddenly came alive, when before, all I could hear was a terrible recording I heard in college of a guy who couldn't hit the high G.
One of the traditions of our church at Advent is to have a new(er) church family light the candle for us, read the scripture for the week, and share some of their own family traditions with the church. This year, the guide I created for one particular Sunday asked the question, "Share with us: what are you doing this Christmas that's new? Have there been changes in your family that have prompted a new approach to an otherwise familiar holiday? Have these been easy or difficult to adopt?" The family's response has stuck with me the last few weeks and, though this is a clumsy paraphrase, I thought I'd share it.
They described how one little trip they didn't usually take took the whole season and threw all of their traditions off, and yet, in the midst of all the change, they discovered through their kids that this might not have been a bad thing. Instead of relying on their family traditions to get them "into the spirit of the season," they had to focus instead on the story itself – the Savior Himself. Over time, the traditions had clouded that for them. But the kids got it; for them, Jesus was still the center of the story. Jen said,
"I realized that this is what we are constantly trying to teach our children, and through the hurriedness of life, I was the one who had lost perspective. I simply needed to see Christmas through the eyes of my children. So when you ask, 'What are you doing new this season,' our answer is 'Everything, and maybe that's just what we needed.'"
What do we really need?
God is a God of faithfulness to His promises, to His traditions as it were. He is true to His character, and works within the flesh of a culture to make Himself known. But so too, God is a God of creativity – He is the Creator; He makes everything new.
With God, there are but constant beginnings, even for tradition.
With God, the old is given new life, every time.
With God, the ancient of days becomes a newborn baby.
With God, even death gives way to resurrection.
What are you doing new this year?