We continue our series of posts here on the Worship Connect blog profiling individual Covenant churches. Our purpose is to celebrate God's work in and through us, to demonstrate the diversity of approaches to worship in the ECC, and to prompt prayer for one another. We are better together.
Our latest post comes to us from Randall Wilkens Associate Pastor of Worship and the Arts at Bethany Covenant Church in Mount Vernon, WA.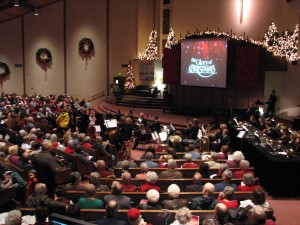 About 30 years ago, the congregation of Bethany Covenant Church decided it was time to move out of their small neighborhood church building. They had outgrown it—maybe not so much in numbers as in vision—and they wanted to ramp-up their outreach and visibility in the community. So this church of about 250 members bought five acres in a developing area of town and made plans to build. The first phase of the multi-phase project would include a sanctuary with a capacity of 780, about three times the church's membership! It would seem this little church didn't plan to stay little!
When the new sanctuary was completed in 1987, it was immediately the premiere performance space in the Mount Vernon area, and remained so until 2005 when McIntyre Hall was built on the campus of Skagit Valley College. The sanctuary's sloped wooden ceiling and curved sheetrock walls were designed in consultation with an acoustic engineer, with ever-pleasing results. The room has often been used by school bands, community choirs, and other concert groups. It continues to be the venue for our church's annual Christmas Musical—drawing an audience of 1,200 over two nights—and for other concert outreaches the church undertakes throughout the year. And of course it is used for worship multiple times each week—both for our own traditional and contemporary services, and for multiple services of a Russian congregation that rents the building.
A lot can change in 25 years. When Bethany's sanctuary was built, contemporary worship was not yet common in evangelical churches. So despite the fact the sanctuary platform is almost 80 feet wide from the baptistry on one end to the choir loft on the other, it never seems to have quite the right space for a worship band. And while the forward-thinking congregation made sure a projection screen was installed, they never envisioned it would be used every Sunday, so it was designed to disappear into the floor most of the time. When raised it was about two stories high, so the unused bottom half eventually had to be concealed to prevent it from dominating the room like a huge white monolith. When that screen accidentally tore five years ago, its demise provided us an opportunity for a welcome upgrade!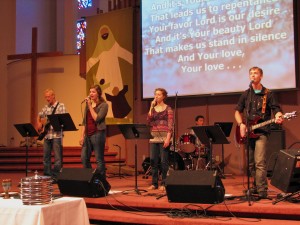 Other changes have been made over the years and still others are planned. All the major components of the sound system have been replaced over the past ten years. As recently as last summer a new production booth was completed—housing new Mac computers and video equipment donated by a member of the congregation. Plans are underway to replace the mauve carpet with something more up-to-date, and to modify the platform to better serve current worship needs. Those worship needs continue to be those of a multi-generational congregation which values traditional and contemporary worship equally, supporting both with just about equal attendance.
On the contemporary side, Bethany Covenant struggled in the past to find its voice. In planting a church several years ago, we were depleted of many of our best contemporary worship musicians. Yet we have not given up on the conviction that contemporary worship is needed for an effective outreach and to give expression to younger generations of worshipers. We have persevered, and that perseverance has paid off, as we are now blessed with an influx of young worship musicians whose leadership has brought more vitality to our contemporary worship service.On the traditional side, Bethany Covenant has a long-standing heritage of choral music, and still has a fine 35-voice adult choir, along with successful youth, children's, and bell choirs. We are blessed to have a 9-foot Steinway concert grand that's used for everything from classical piano pieces to accompaniment for our resident gospel quartet. And this weekend we will dedicate a brand new, 3-manual custom Allen organ. This instrument is unique; there is not another like it anywhere in the world. Everything from the individually-selected stops on its French terraced console to the 34-channel audio system, promises years of beautiful music devoted the glory and majesty of our God. The organ even features a MIDI module that will make it a useful instrument for contemporary worship.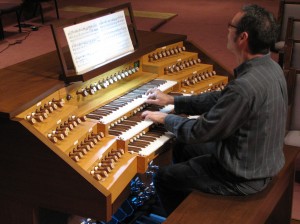 There is always a concern that when a church has two unique services it will just end up as two congregations meeting in the same building. That doesn't seem to have happened at Bethany Covenant. A Christian formation hour between the services gives the whole congregation a chance to grow in their faith together. Fellowship dinners on Wednesday nights provide opportunities for the whole church family to sit down to a meal together. "Festival services" several times a year bring everyone together in one gathering where traditional and contemporary styles are integrated. These gatherings happen around some of the most important times in the life of our church: our fall Ministry Fair, Christmas, Easter, and Confirmation Sunday. In the opinion of our church's worship pastor (the writer of this article!) gathering like this as one body to worship our Lord is like a little taste of heaven!