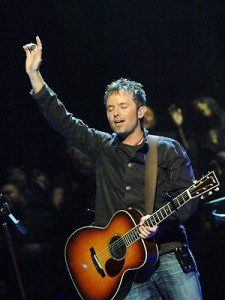 John Stackhouse took Chris Tomlin to task. This week, Stackhouse posted a detailed critique of Tomlin's Praise the Father, Praise the Son underscored by a general concern about the quality of the sounds and lyrics we foist upon people in church. Read Chris Tomlin's Worship Songs: We Have Got to Do Better.

This reminds me: Covenant pastor, Andrew Thompson, sent us an open letter on the same topic. Thompson is wondering: 1.) What can we do to encourage the craft of songwriting among ourselves and 2.) How can we share the good stuff that's written and sung in our churches. (i.e. We used to publish hymnals. Now what's the plan?)
I offer you their respective messages for review, and I hope you'll offer your responses/s to either leader and each other via the comment tool. (Note: Thompson references a Covenant Quarterly article by Phil Anderson. I don't have that article in electronic format, but I've asked for it, and I'll post it soon, so this community can respond to Phil's thesis as well.) 
Now, here's Andrew's letter:
May 30, 2008

Dear Covenant Leaders:

Phil Anderson recently reminded us of our rich history of hymn singing and songwriting in his excellent article in the Covenant Quarterly. His article urged us to remember this important aspect of our churches' worship life. To take it seriously; to give it thought and make it a point of reflection. I couldn't agree more.

This letter is written in the hopes that we heed Anderson's reminders and proactively consider how we might deepen and enrich this important aspect of our weekly worship, theological reflection and catechism. In many of our churches' worship life, singing has nearly as central a place as preaching. For many parishioners, the lyrics of the songs we sing are committed to memory as much or more than Scripture. We know that our songs are important. They shape how we engage faith. They shape our doctrinal focus and our devotional lives. They shape our praxis. They shape us. But it seems that as a denomination we are doing little to shape our songs.

The Covenant has all but abdicated its role in publishing new music for its churches. With few exceptions (CHIC and a few other specialized events) there is little effort to develop, promote and distribute music that flows out of our core affirmations. In most cases, local churches have instead allowed the secular market forces of contemporary music publishing to determine the pool of new music considered for adoption into their regular song repertoire. Many feel that's all they have to work with. We have provided them no other option. While it needs to be admitted that not all the songs to come out of the contemporary music publishing "machine" are bad, it is interesting to note that a high percentage of the songs coming out of the machine flows from a narrow stream of theological and denominational roots. The denominations and doctrinal movements that support and promote their own songs are being heard, and in time, we end up singing their songs.

Perhaps you doubt what I'm saying? Next time you are in worship in a "contemporary" format setting, pay close attention to the publishing information that's listed on the projection screen or handout. There's a good chance you'll see content from Mercy/Vineyard publishing or Hillsong music. Mercy/Vineyard controls publishing for more than 10% of the top new songs being introduced in most evangelical churches (according to CCLI licensing). The Vineyard church is similar in size to the Covenant, but through its popular music its influence and impact is much wider. The Vineyard's theological emphasis on intimate relationship is expressed well musically. The language tends to be first person singular. Often the relationship with God is expressed in erotic language. (Touch me, hold me, I want to feel you, etc.) This is not necessarily bad. This is just a church movement expressing who they are and what they believe. And their songs are so catchy, sing-able, distributed and supported that, as they hoped for, many other churches are singing them too – in time, shaping their thinking to be more like the Vineyard's. Hillsong is similar in both doctrinal focus and marketing. And it is working. Are we and other denominations becoming more Vineyard-like and Hillsong-like in our theology? Yes. Why? The songs.

Our problem is revealed when we discover that we are no longer singing about who we are, and how God has shaped and is shaping our movement. Would you like more Covenanters to be excited about the priesthood of believers, holistic mission and freedom in Christ – three values that flow out of our theology? Write and distribute good songs that flow out of our affirmations. It is good that we write articles on the Covenant affirmations. It is good that we produce videos about them. It is good that we develop Confirmation curriculum around them and that we preach about them. But it we don't sing them – regularly and wholeheartedly  they will not fully embed in either our worship or our practice.

I hope my words do not come across as overly critical or harsh, for I am very aware that there are many others also working in similar ways to support and build up our tradition of hymnody. Faithful song writers like Bryan Jeffery Leech, Jim Black, Richard Carlson, Bob Stromberg and others, song leaders and pastors who are working very hard to deepen the worship lives of their congregations; many people who are careful, thoughtful and often very concerned about where things seem to be going. They need support from their denomination, not criticism.

Please allow me to make some suggestions. It is my primary hope that these ideas would get the process started. I trust that as others consider these ideas, and modify or adapt them with similar ideas, that together the Holy Spirit will lead us to greater faithfulness in this area.

Introducing Indigenous Music at Most Covenant Events.

We could invite song submissions from Covenant churches prior to Midwinter/Annual Meeting/Feast planning. With our existing technological infrastructure it would be relatively easy to have churches submit original songs in electronic format, perhaps a lead sheet as an Adobe Acrobat file and as an electronic format audio recording. The planning committee could, even from a distance, listen to the music and judge it on 1) sing-ability, 2) theological content, and 3) relevance to the Midwinter or Annual meeting theme. The best songs for the event could be selected.

At the event, the one or two top selected songs could be highlighted in worship, and the music could be made available to participants. It could also include basic info about the author and her or his home church, the story behind the song and information on appropriate permissions to use and distribute the music. Perhaps a recording of the event worship team singing the song in a worship service could be made available afterwards. Just as we sell and distribute speakers' CDs and Mp3s, we could distribute these new songs to those interested in hearing them.

Helping Pastors Grow in their Theology of Songwriting

We could offer a "Theology of Songwriting" course, perhaps as part of North Park Theological Seminary's M.Div program, as a Midwinter elective, or perhaps even as part of the orientation track training. In the class, pastors would be asked to theologically assess several popular worship songs, then would be asked to write song lyrics around a particular passage or biblical theme. (Original tune optional.) The process of wrestling through writing songs and growing in appreciation of what is involved in writing a good song can help pastors gain awareness of both the importance and the challenge of the arts in their local churches. Perhaps for some it would unlock a new gift. In every case it would enhance a pastor's ability to shepherd musicians and songwriters in their own context. If there is interest in pursuing this idea, I would very much enjoy being part of the teaching team.

Songs are central to how we worship. Worship is central to life. Thank you for taking the time to read my thoughts. I submit both them and myself to you as together we seek to build and strengthen our Lord's church.

Sincerely,

Andrew

Pastor Andrew Thompson
Church Planter/ Lead Pastor
Columbia Grove Covenant Church
Wenatchee WA
Okay. So what do you think about 1.) Tomlin's songwriting ability? 2.) the quality of music/lyrics we use in church? 3.) Andrew's critique of Vineyard and Hillsong music as it relates to Covenant Affirmations 4.) Andrew's sense that we need more Covenant native music and should make more effort to that end? or 5.) Other?