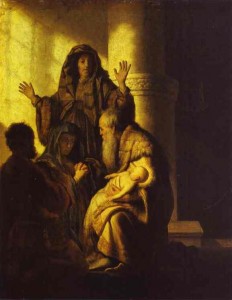 During Christmas, we think a lot about family. For some, this focus is painful and difficult. We lift you up to the Lord.
For others, it generates joy and thanksgiving.
For the family of Jesus, well, Christmas was an ordeal: An unexpected pregnancy, a long journey at 40 weeks, surprising attention and a startling prophecy.
When the day came for them to be purified in keeping with the Law of Moses, they took him [Jesus] up to Jerusalem to present him to the Lord . . . 
Now in Jerusalem there was a man named Simeon. He was an upright and devout man . . . and the Holy Spirit rested on him. It had been revealed to him by the Holy Spirit that he would not see death until he had set eyes on the Christ of the Lord. Prompted by the Spirit he came to the Temple; and when the parents brought in the Child Jesus . . . he took him into his arms and blessed God; and he said: "Now, Master, you are letting your servant go in peace as you promised; for my eyes have seen the salvation which you have made ready in the sight of the nations; a light of revelation for the gentiles and glory for your people Israel." As the child's father and mother were wondering at these things that were being said about him, Simeon blessed them and said to Mary his mother, "Look, he is destined for the fall and for the rise of many in Israel, destined to be a sign that is opposed—and a sword will pierce your soul too— so that the secret thoughts of many may be laid bare." There was a prophetess, too, Anna . . . she had been married seven years before becoming a widow. She was now eighty-four years old and never left the Temple, serving God night and day with fasting and prayer. She came up just at that moment and began to praise God; and she spoke of the child to all who looked forward to the deliverance of Jerusalem.
Luke 2:22-38