Dear Friends & Prayer Partners,
It's January 7th, the kids are all out the door for their first day of school in 2013, and we are going through mail, checking schedules, and attempting to organize our lives in such a way that we will remain available and hopefully useful in some way to our Master. That's sometimes easier said than done but we want to keep trying. Thanks for being partners with us in prayer and mission as we live out our call here in Japan during this coming year.
We enjoyed a week of beautiful snow and winter play in the mountains of Nagano; snowboarding almost every day, reading books, playing games, eating good food… what a blessing!

Even more amazing than the beauty of the snow and mountains…. (spectacular as they are) is the beauty of a life miraculously changed by God. Mr. Arai was baptized at our December 23rd Christmas worship service at the age of 86. His wife was baptized in the hospital just before passing away last November 21. His daughter, Masumi, was the first person baptized at the Isesaki Church in 1988 and she has prayed faithfully for her parents since then. What a great day it was for our whole church family…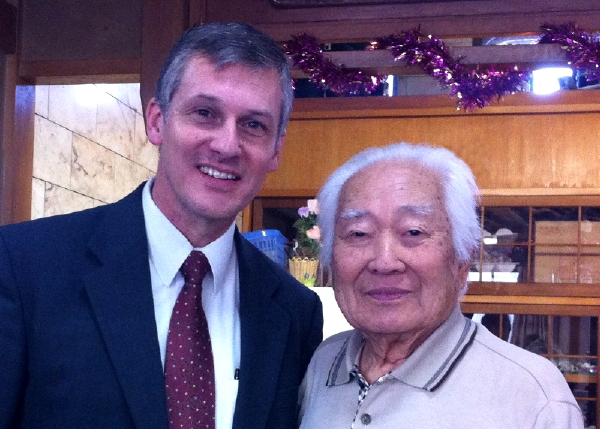 Our gathering on December 23rd – Mr. Arai's daughter Masumi is sitting on his left and his son and daughter-in-law are directly behind him.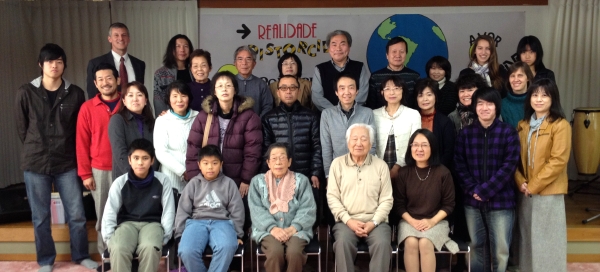 We look forward to staying in touch through this bulletin…for those of you who pray with us, would you remember in your prayers the following items over the next couple weeks?
Andrea, as she finishes up the school year at Gunma Women's University. Final classes and tests should be done around the middle of February. Please pray that God would continue to use and bless her many relationships there.
Lilla has been struggling with a foot / ankle problem for several months that has kept her from being able to participate in basketball this winter. We are trying to get a clear prognosis and some direction as to how to proceed.  
Please pray for a dear brother in our Isesaki Church (he just turned 31 last week) who is dying from cancer – it has been difficult for his family (who are not part of the church) as well as for his church family. May Jesus' name be honored through this difficult situation.
Thanks again for your monthly prayer work on our behalf..
Your partners in prayer and mission,
Tim & Andrea Johnson
(Sam, Lilla & Sky)