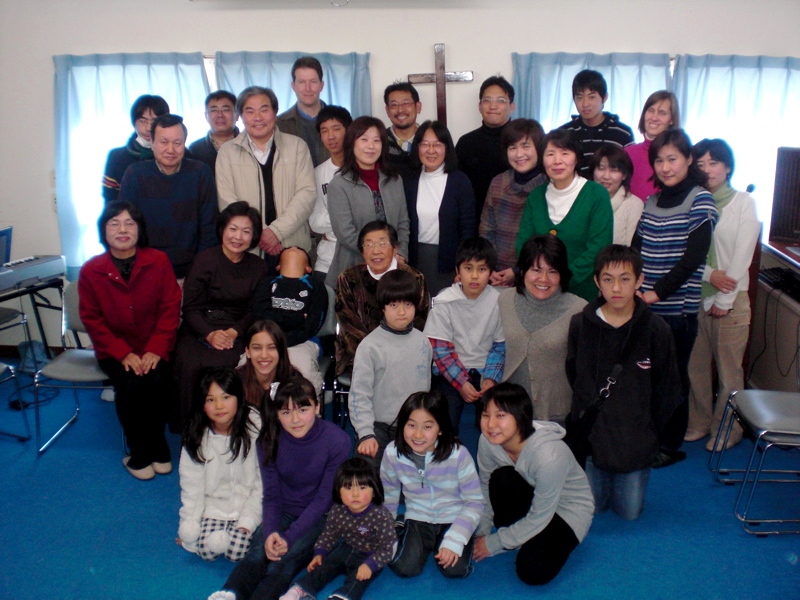 (the photo above was taken on Jan. 17th following our worship service at the Isesaki Church.)
Dear prayer partners,
Although January is almost finished we want to send off a brief note and we will then take more time to update you once we get into February. For a few photos of our December happenings you might want to check out our website. (address / link below)
We're Moving
On Saturday, January 30th, we are moving out of the house in Maebashi where we have been for almost three years. We are returning to the United States for a 6 month home assignment. Here's our schedule:
Jan. 30th – Move out
Feb. 1 – Tim returns to the U.S. (Seattle)
Feb. 15 – Andrea, Lilla & Sky return to the U.S. (Seattle)
March 20 – Andrea, Lilla & Sky fly to the Chicago area where we will be making our home base (see address below)  /  Sam flies directly from Tokyo to Chicago
March 30- Tim flies from Seattle and joins up with the family. (from Feb. 5  – March 28 Tim will be visiting with support partners on the west coast.)
March 30 – August 10 – We will be visiting supporting churches primarily in IL, MN and MI, spending time with friends and family, and connecting with our colleagues and support staff.
Please take this moment to update your address books for us. Please delete the Maebashi address. No one will be here. Please send no more mail. Our email address remains the same and will be the best method to contact us for the next few weeks.
More Sad News
On January 5th my older brother Rick was found dead in his home in Portland, OR. We were heartbroken by the news. The lack of data has made things even tougher. Since he was alone at the time the medical examiner is involved. We have yet to receive a report or a death certificate. Following the death of my sister Karen last May and my mother in September it has been a hard piece of news to receive and deal with. Yet God's hand is clearly evident in many details, even in this tragedy. My sister Kris and I owe a great debt of gratitude first of all to My Uncle Howard and Aunt Arleen Johnson (of Olympia, WA) who were instrumental in asking a friend to go and check in on Rick. My brother-in-law Doug Pegors (Karen's husband) has also been a great help as he has traveled down to Portland from his home in Seattle a couple of times to begin dealing with legal and practical matters on our behalf. We are so thankful for their help during a time when neither Kris nor I were able to move quickly. Kris and I will be meeting in Portland on Feb. 17 and we plan to hold a memorial service for Rick on Friday, Feb. 19th at 2:00 P.M. at the First Covenant Church in Portland.
It seems like just a few months ago there were five of us (4 siblings and Mom) who exchanged emails and phone calls and had hopes for getting together as a family. Now that family is down to just me and Kris. It makes our upcoming time in the Chicago area particularly meaningful as we spend time with Andrea's sister Lisa and her family, as well as with my sister Kris and her family.
The Prayer Request List for the Fridge
For safe travels back to the United States
For good experiences for our children as they adapt to a couple months of school life in America.
For meaningful visits and interaction with our support partners.
For God's provision and help in regard to my brother Rick's memorial service and various legal issues that remain.
For the Isesaki Church and all of our brothers and sisters here in the Gunma area,  that they will be protected and blessed during the next 6 months.
We hope that we will be able to see many of you personally in the days ahead.
Your partners in prayer and mission,
Tim & Andrea Johnson
Sam, Lilla & Sky