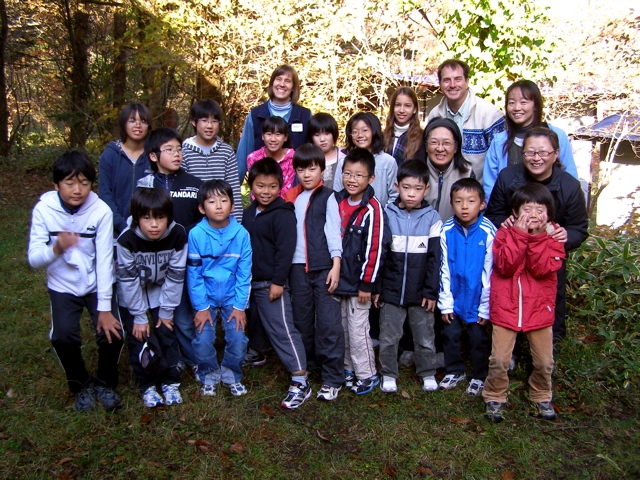 (Photo: "ABC Kids" camp at the Akagi Bible Camp on Oct. 17-18, 2009)
Dear prayer partners,
Fall greetings from our household to yours!  Here's a combination report with prayer needs for both October and November:
Mom's Homegoing
On Sept. 11 my mother, Lucille Johnson, died peacefully in her sleep at the age of 88, having run the race placed before her in a beautiful and God-honoring way. Her final months were marked by deepening dementia and when I stopped by to see her following my sister Karen's death in May, she was not able to recognize me. While we're all struggling with a sense of sadness and loss, her memorial service was really a time of joy, thanksgiving and worship to God for her life. The memorial service in California was held at the Covenant Village in Turlock on 9/17 and I was able to join my brother Rick, sister Kris, Doug (Karen's husband) and their son Evan along with many other friends for that service. There was another service in Foley, MN on Oct. 10th where relatives and family in that area of the country were able to be together, although I was not able to return from Japan at that time.
Akagi Bible Camp
We had a really good children's camp last weekend, Oct. 17-18. The Fall colors were just gorgeous and the weather was particularly good. Out of 20 kids who participated, only 3 had ever been in church before, and two of those were Lilla and Sky. Our Sunday morning worship time included a picture version of the prodigal son, music from our  chime orchestra (plumbing pipes hit with a spoon) and a recent dance from Hannah Montana. Ok, so it wasn't exactly high church (whatever that is…) – more of a blended approach… Wish you could all have been there with us. Thanks for praying for ABC over the last few weeks. We are having an important board meeting tomorrow and it appears that we have been able to put together a revised plan and budget for the coming 12 months. Things are pretty tight financially but that's really nothing new….we're in our 4th decade of camping that has continued because of God's miracles. Thanks for continuing to pray for the Tsuruki family, managers at the camp, as they face several challenges.
Gunma Harvest
Thanks for praying for our music outreach efforts in the village of Shintomura. We were very disappointed to be told by the community center that we would not be able to advertise publicly for our event. As a religious group we were not really allowed to even rent the space. As it turns out, they know our program this time is not overtly worship or evangelism – simply a music program. They didn't mind us meeting there but they would be "put on a spot" if anyone would call in and ask why we as a Christian group were being allowed to use the facility. This does not really represent a particularly anti-Christian stance (other religious groups can't use this particular facility either) but it was very disappointing to us. We met on Sept. 6th and October 4th anyway and although there were no new folks from Shintomura joining us, we had a really fun time learning our instruments and praying for this village. Here's an update of the situation on our website as well as a couple of photos.
Isesaki Church
I am meeting for the second time tonight with Ryo, the young jr. high boy who after summer camp felt led to pursue baptism. He is very shy and has a difficult time expressing himself but we are excited for him. Thanks for praying for him as we continue a simple discipling program in preparation for his baptism. Please continue to pray for this round of the Alpha Course which will be finishing up on Nov. 24th, particularly for a Mr. and Mrs. Suzuki (new friends) as well as three other women who are in various stages of seeking. Please pray for a special gathering on Nov. 21 as well. One of the hosts for a Christian TV program – "Lifeline" – which is aired each week on Sunday morning here in Gunma will be coming to speak in our city. Our church will be hosting this event and we are passing out about 1500 flyers in the area inviting folks to come.
The List for the Fridge
Akagi Bible Camp / Tsuruki Family
Music outreach in Shintomura (Nov. 1, Dec. 6)
Ryo (baptism prep)
Alpha course (ends Nov. 24)
Lifeline meeting on Nov. 21
Andrea's teaching ministry
Your partners in prayer and mission,
Tim & Andrea Johnson
Sam, Lilla & Sky