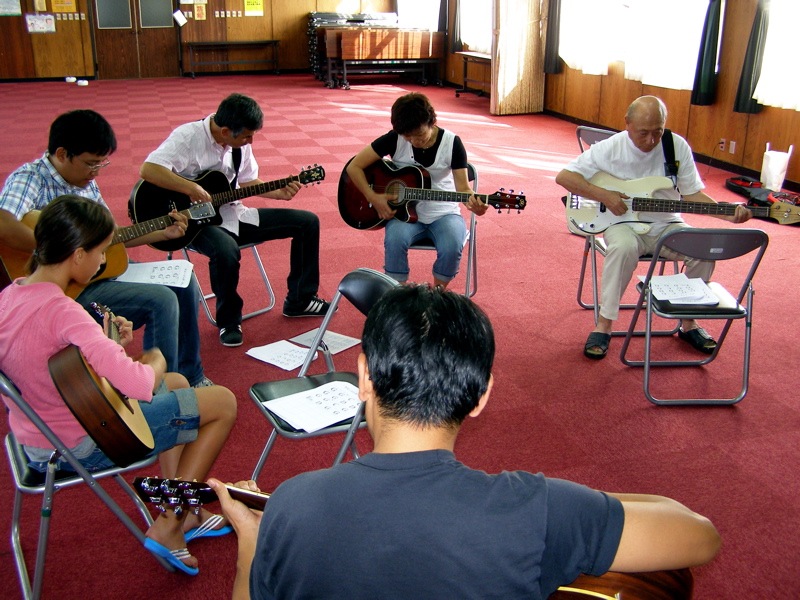 Well, today we had our second gathering for music at the community center in Shintomura. Here's what's happened since we wrote the last entry:  we made up a nice flyer and had hoped to hand it out door to door as well as place it in the local newspaper. However, we received word from the community center that we would not be allowed to publicly advertise our music gathering. The reason given was that we are a church and therefore not technically allowed to even use the community center. Since our program this time was not overtly "worship" or "evangelism" they would allow us to do it but asked us not to advertise it publicly. In other words the staff at the community center were not against our music program but would be put in a spot if someone would call in and question who we were and why we were being allowed to make use of the center as a religious group.
Although we were disappointed it is not such an unusual thing here in Japan. Other religious groups are not allowed to use this particular public facility either so it is not a case of being particularly against Christians. The result is that while we've had fun gatherings on Sept. 6th and Oct. 4th, we have had no real new folks from Shintomura join us. We will go ahead and meet the next two times that have been planned and keep trying to let folks know by "word of mouth"…. but perhaps the writing is on the wall for continued use of these rooms…..
We are praying about a location that would be a bit easier to use without the restrictions mentioned above. And in the meantime we are enjoying learning our instruments and praying for the village of Shintomura. God will show us the right time and way.
Here's another photo of our time together (sorry about the poor quality)…