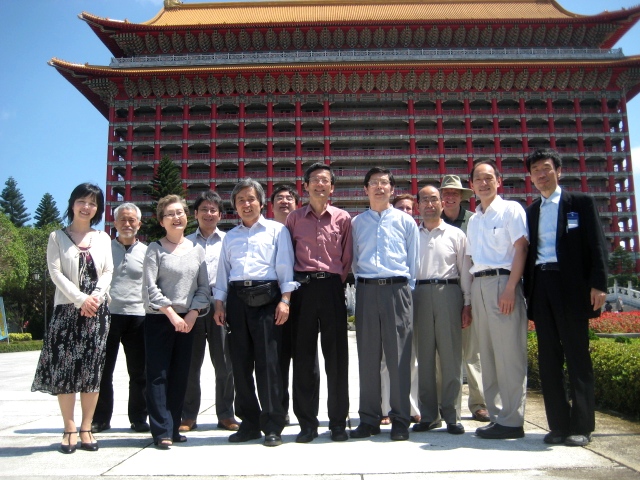 (photo: part of our Japan delegation as we met in Taipei for the 6th Asia Covenant Church Consultation.)
Dear prayer partners,
I want to report briefly on the week that I have just experienced as well as to ask for special prayers for the week that is coming up.
Asia Covenant Church Consultation – From April 28th until May 1st I was able to be part of our Japan delegation as we met with leaders from all our Asian Covenant Church organizations in Taipei, Taiwan. It was our 6th consultation of this kind and I believe there were about 60 delegates present although many others from the local Taiwan churches participated in the sessions. The theme was about how we might better reach out to the poor and marginalized among us, but there was also emphasis on the important topic of truly being the body of Christ in economically difficult times such as we are all experiencing now on a global level. Our Taiwanese group had chosen the theme "Soaring Against the Wind". Very encouraging and challenging reports were heard from all countries but I think for me the scenes and images coming out of the work in India and China left a specially deep impression on me. I came back to Japan with new joy and a renewed confidence in God's call on my own life.
Japan Covenant Church Retreat – After returning from Taiwan I had just one day before we began our denomination-wide retreat for all of our congregations here in Japan. Although it is the holiday season with many people traveling in all directions, about 100 of us gathered for singing, prayer and fellowship around the theme in Isaiah chapter 6. "Lord, Send Me!"  Again, without going into a lot of detail I just want to report on what a beautiful time we had together. We rejoice in what we see as the continual fresh work of God's Spirit among us. There are many problems and always multitude reasons to get discouraged or exhausted in our attempts to serve the Master. Yet, listening to a young gospel singer this morning as she provided a concert for us, I found myself on several occasions moved to tears because of her testimony and the words of the songs she sang. How great is God's love and care for us!
Some Sad and Difficult News – As I returned home this afternoon following a week of incredible blessing I heard the tragic and sad news from Andrea. My sister Kris had called from Chicago with news that our sister Karen had died suddenly in a car collision (killed by a drunk driver who hit their car at high speed) Sunday evening in the Seattle area. Thankfully, her husband Doug who had been driving survived the accident but there are no words to describe our sadness and pain in having to say goodbye to Karen in this way….and we know this is especially true for Doug and their three children Katherine, Teresa and Evan. I am attempting to get on a flight out of Tokyo tomorrow evening.  I would really appreciate your prayers for Doug, Katherine, Teresa and Evan Pegors over the next month.
And finally, as I have been gone for a whole week, and now take off for another, I would appreciate your special prayers for Andrea. She's tough and has been very encouraging to me but it's not easy for her to juggle everything when I'm nowhere in sight.
We have much more to share but it will have to wait until next month.
Your partners in prayer and mission,
Tim & Andrea Johnson
Sam, Lilla & Sky