By Cat Knarr, Manager of Covenant Kids Congo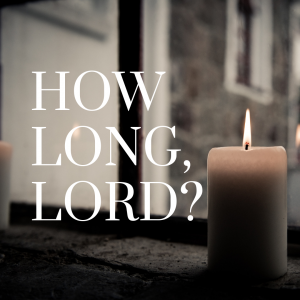 When I came back from my first trip to my grandfather's homeland in Palestine, my soul ached. Within the span of two weeks, I experienced so much beauty and so much sorrow.
I got to meet my amazing, beautiful, resilient family in Palestine. They warmly welcomed me as one of their own, despite the fact that I was a stranger who had never met them before and did not speak their language. They hosted me at the dinner table for iftar, after long days of fasting during Ramadan. They broke bread with me. They gave me a place to sleep in their houses. They shared sacred stories that they were under no obligation to entrust me with. They blessed me with their love and said, "Welcome home."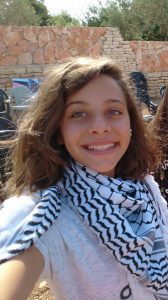 And yet, I also came to know the painful challenges that my family and other Palestinians have endured living under Israeli occupation in the West Bank. I learned how my grandfather died from diabetic complications after he couldn't get to the hospital during a curfew. I was the first U.S.-born descendant to visit his grave. I met Palestinians in South Hebron Hills who lived under the threat that any day their rightfully owned homes could be demolished. And I spoke to 12-year-old journalist Janna Jihad, whose family members in the village of Nabi Saleh are dedicated to nonviolent resistance in the face of Israeli military brutality and attempts to drive out the Palestinian population.
"A lot of things happen in Nabi Saleh, in every place," Janna said to a small group gathered under the glaring sun on a warm day during Ramadan. "Children get injured. Children get killed. A child living here in Palestine, you can get killed anytime. … Every child living here is under really big danger, is under a really big threat."
Upon returning, I had an idea of the burdens that my family and other Palestinians carry, even as they go on living loving, joyful lives. I thought I felt the urgency of the Palestinian struggle, the lives that are at stake every day—but nothing impressed that urgency upon me more than when I woke up the next morning and checked the news.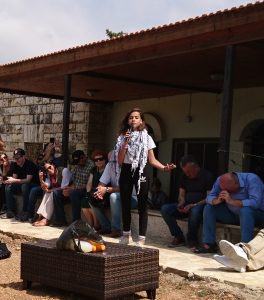 That morning, Janna Jihad woke up to the crack of gunshots that struck down her 21-year-old cousin. Izz al-Din Tamimi was killed by the Israeli military in Nabi Saleh, a week after I was there. According to the Israeli human rights center B'Tselem, Izz al-Din was shot while running away after throwing a stone at soldiers. He was left to bleed to death, after 45 minutes of no medical attention, according to the Addameer Prisoner Support and Human Rights Association. I watched the videos that Janna posted on her Facebook page, screaming and sobbing as she filmed from her phone. I couldn't believe that just a week ago I had taken a selfie with her, and now she was mourning her cousin's death at the hands of a soldier.
But this is the reality of life under occupation, when everything can change in a moment, when lives can be lost in a flash, when a thrown stone can provoke a deadly bullet. This is the reality of living at the center of conflict, where even temporary peace is fragile, where each new day can bring new violence. And so I can't help but ask: How long, Lord, until there is peace in the Holy Land? How long must all of the people of this land suffer?
On that warm summer day in Nabi Saleh, Bassem Tamimi—father of teenager Ahed Tamimi, who was at that time still in jail for slapping a soldier—looked at the group and said, "Thank you for your tears. But we have a lot of tears because of tear gas. We don't need your tears." Instead, you should do what you feel is right, he said.
I nodded, recognizing that this brave family didn't need sympathy. Nevertheless,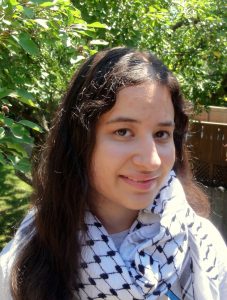 our Christian faith compels us to do what is right and just. It can be all too easy to hear heartbreaking stories, to shed tears, and then to move on—because, after all, what can we, in our infinite smallness, do about it? But this isn't the journey that Christ calls us on. We are called to make peace and confront injustice with prophetic voices, even at the cost of great personal sacrifice.
So I could not simply return home and forget about meeting Janna and her family, seeing the homes under threat of demolition, and hearing my own family's painful stories. I could not simply move on. But I can continue to seek truth, peace, and justice at every turn, aching and grieving and praying in wordless groans.