This is the van that Jeff and I drove from 1998 when we came to Cameroon until 18 months ago(July 2010).  At that time the Ziegelbaurs started driving it and continue to do so.
It has been a workhorse – going to Kribi for camping trips, stuffed with people, a dog and stuff inside, and carrying a load on its roof.  It made numerous trips back and for as RFIS moved sites – moving almost all the books and many, many other items and people.  It has travelled to the Northwest province and climbed the hills, visited Limbe and many places in between.  But it has become tired and worn and needs to be replaced.
This is our current vehicle – it is even older – a 1986 model- and it has driven not only around Cameroon but also around Bangui in the Central African Republic.  After it came to Cameroon, it has developed some problems with its gas tank – it leaks if filled too full and various accessories (like doors and locks) have unique properties.  It also needs to be retired from its labors.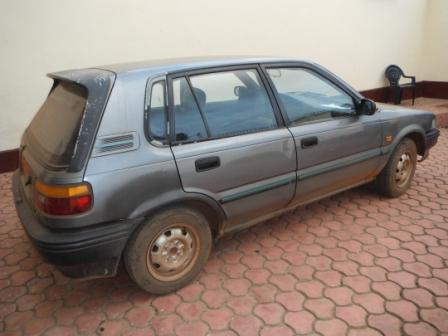 But to do that we need a new vehicle – and they cost money.  Would you consider contributing to the Yaounde teams vehicle fund?  We are hoping to buy two new vehicles – one with four wheel drive and with good clearance from the ground so we can drive all the way to visit our colleagues in Gambola, Central African Republic.
You can give by sending a  check  made out to "Evangelical Covenant Church" and earmarked: Cameroon Vehicle Fund.   Checks should be sent to:
Department of World Mission
8303 West Higgins Road
Chicago, Il  60631
Thanks for helping to make reliable transportation a reality.