Over the past month I've been asked to give two workshops on integrity in Leadership.  In August I went to Loko to meet with the CEUM's medical technical committee and then Sept 24-25 I was with the leadership of the CEUM's education department.  Both times I showed the movie COURAGEOUS in the evening and then the next morning we discussed what we watched.  We review what took place in the movie, answer questions about what was not understood and highlight the lessons from the movie.
I ask what issues in the film they find here in Congo and always get a long list:  young men abandoning girls they get pregnant, irresponsible parents, hypocrisy, divorce, no humility by fathers, gangs, drugs, thievery, street kids without a family, no integrity at work, corruption.
The leaders listed these lessons they learned:
the important of training up your children, taking time with them
responsible parenting
God blesses those who work with integrity
sometimes there are tests of our faith
honesty and humility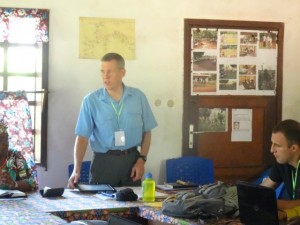 During the conversation I also distribute a French copy of the Resolution, a list of 15 accountability questions and a list of scriptures about integrity.  My challenges are: to go home and STUDY these scriptures, STUDY the resolution, and FIND someone with whom you can be open about the areas where you feel weak with the idea to start an accountability relationship.
After both of these showings several of the participants asked for copies of the movie as they wanted to show it to other people or they wanted to show their family or they wanted to watch it again and learn more.  I gladly order a few extra copies for them.
I am grateful for these occasions to speak into the lives of leaders in Congo.