Early yesterday a surge of gale force winds completely ripped off the long center section of the roof of the Sabuli's Kids' Orphanage.  Most of the 80 orphans where inside at the time and thankfully no one was injured.  Do pray for Ruth who remains significantly traumatized by the disaster.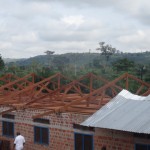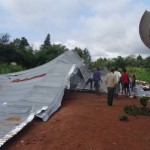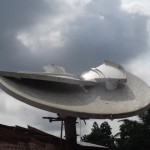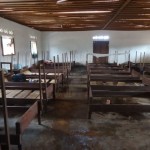 Being one who continually seeks to understand why I poked around some.  Without question this was an exceptionally strong wind all at once.  In addition I find 4 contributing factors to this disaster.
1. The orphanage is completely exposed to strong winds coming from the North.  As the orphanage is only 3 years old there is no windbreak in front of it.
2. There was an open space between the top of the concrete block wall and the roofing.  This allows the wind to go under the roofing and build up an incredible force which had to have happened for the entire roof to blow off as it did.
3. There is only about 1-1/2′ of nail sticking out of the purloins (the crosspieces to which the roofing is nailed).  These nails were pulled straight out of the trusses.
4. There were no straps firmly connecting the purloins to the trusses.  This would be a good addition in the future.