What's the noise at 3 AM?  Oh yeah, I know that sound, it's the sweeper.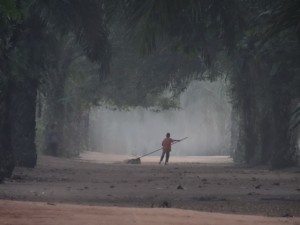 We visited the Songbolo Bible Institute two weeks ago and yes indeed, the sweeping started at 3 AM.  I've heard them before in the village, but never that early.  Thankfully it was early enough that I could still go back to sleep once he moved a bit further from the house we were in.  Now of course, if like most other people in the village we had closed our windows we wouldn't have heard him so well, but we want whatever air movement we can get so with that comes "duh-whoosh, duh-whoosh, duh-whoosh" in an even rhythm as moves across the yard and away down the road.
Every day acres of bare ground in Congo are swept around homes, across yards, around schools and buildings, down entry roads and more.  They sweep up the fallen leaves, debris and give the area a clean, neat look.  The negative side of all the sweeping can be seen in the erosion around buildings and foundations as the sweeping only serves to add to the rain erosion.  Life in Congo.