Last week Rev. Elenga and we gave a CHE vision seminar to the graduating class at the Songbolo Bible Institute 40 kms S of Karawa.  Our objective was to introduce the future pastors and their wives to what CHE is so that when they hear about it in their future places of ministry they are not ignorant and questioning, but can be supportive.   We had a great time and good interaction with them.  We left them with these challenges:
Wherever you are placed, desire that transformation take place
We should each be people that bring samples of transformation to our villages
We should look not just for personal needs, but for the common good, for the good of the village.
student taking notes and Rev Elenga (R) giving an explanation
In addition to the CHE vision seminar, we also showed movies.  Tuesday night was COURAGEOUS in French and Wednesday night the JESUS film in the Ngbaka language.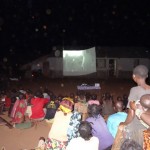 Following COURAGEOUS Wednesday morning we had a session with the entire student body reviewing what took place in the film, what issues or problems here in Congo are similar to those shown in the film and most importantly what lessons are there in the film for us.  The following is a list of some of their excellent comments:
Issues & events that both Congolese and Americans face
Death of children
Lack of integrity amongst policemen
Young women get pregnant and the men flee and leave them alone
Employers looking to see if there is integrity in the workplace
The need for integrity everywhere
Youth getting involved in gangs or other bad groups
Lessons for us here in Congo
If your child wants to go out with someone else, the parents should know the person/people who they are going out with
Don't antagonize your children
Give affection to your children
Be a person of integrity
Take responsibility for your family
Confess your sins we have committed
Men should encourage their wives and children during difficult times
Pray about everything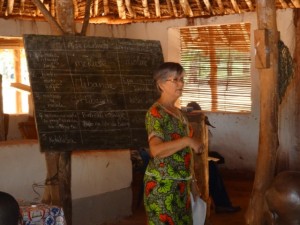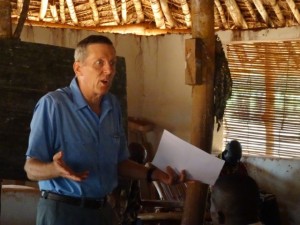 Wednesday morning Cindy also gave a lesson on nutrition to the student body.  This is particularly important as they have had little training in how to eat right.
And, Tuesday later afternoon we walked to their water source.  They are doing the best they can to keep the water clean, but there is also ample opportunity for contamination.  It would take a bit of research to determine how to better protect their source as well as find an easier path into where they get the water.