"Mommy is learning to sew." is what 8 month Gai would say if he could talk.  This week his mother Dakolo, age 19, started learning to sew.  She goes to class Monday to Friday from 8h30 to 13h00 for the next 6 to 9 months.  At the end of the class she will have a skill that she can use to support herself.
This class is the idea of CEUM women ministries president Lisia Weka.  She proposed the idea to Rev. Mbewa, the CEUM's representative to World Vision, and WV accepted and funded it.   50 unwed mothers were selected for the classes, one in the morning and one in the afternoon.  Each of the mothers has at least one child registered with World Vision.  They come from throughout the city of Gemena and represent each of World Vision's local church partners: Covenant, Catholic and Free, plus some from other sectors of the society.
Rev. Mbewa explained to me that they used the following criteria for selecting the mothers who would participate:
Those who were the most vulnerable
They had to come from the different church partners
Are unmarried (husbands having left them for various reasons) and between the ages of 18 and 35.  Most of them have several kids.
Have at least one child registered in the Covenant Kids Congo powered by World Vision sponsorship program.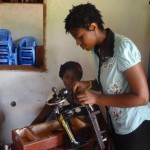 teacher Ephrazie working on a machine
The 50 mothers were divided into 2 class sessions, one in the morning and one in the afternoon, in order to accommodate them in the space available.  Class is held in the CEUM women's foyer or training center.  This center has its own sewing class three years ago and one of those women, Jeannette Angbito, is now a teacher for these women.
The project purchased 28 sewing machines, material, thread, scissors, charcoal irons,..all that is needed to teach the moms to sew.  At the end of the project 25 of the machines will be distributed to the students and 3 will stay with the CEUM women ministries department.  The project also pays the salaries of the teachers.