"The women's saving group was inspiring and empowering," said one of the pastors here this week.
Five Covenant pastors are here on a vision trip to visit the Covenant Kids Congo (CKC) powered by World Vision project.  The last visit we made Monday was to visit the Mama Lydia Association, the local women's sewing and savings group,  and a local women's savings group.  The women in the savings group explained a bit of how their savings group works.  When asked how savings have helped them they responded:
I have been able to help pay for my children's school fees
I have paid for medical care
I am participating more in household expenses
Together our group bought a field which where we raised corn and cassave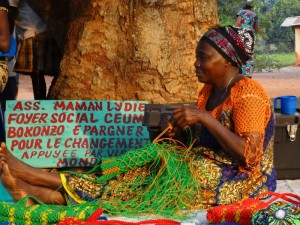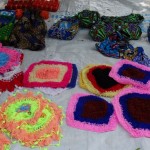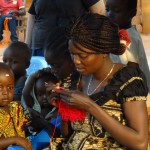 Using nylon string the women in the sewing group are crocheting handbags, flower hangars and blouses.  Using yarn they are crocheting chair covers and table decorations.  Profits from the sale of their work allows them to save money and care for their families.  Over the past 2 years 13 women were trained about savings groups.  These women in turn taught others how to start savings groups and 41 savings groups have started.  Together they have saved over $11,000!  WOW!
The visit to these two groups was just one of several field visits the vision team had Monday afternoon.  They also visited 2 of the 3 schools WV has built over the last 18 months and a fishpond association with a nutrition component to feed malnourished children.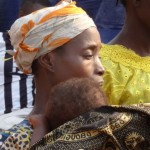 During the morning introductory meetings at the WV office we learned some stunning statistics from their 2011 baseline assessment.  These point to many HUGE issues that CKC powered by WV is seeking to address here.  Here's a sampling:
9% of girls under 15 are married
Only 10% of children have had their birth officially registered and it is free during the first 90 days. To not do it results in penalties and huge expense later.
45% of children under 5 are affected with diarrhea
In response to issues such as these WV is training people to teach others about their rights and advocate for children.