"There is no love greater than this, that a man lay down his life for another," said James Fischer the preacher for the CEUM's Paul Carlson commemoration this past Sunday, Nov 2.  In his message based on the text, John 15:12-17, Fischer challenged the large congregation to live out Jesus' summary of all the commandments.  "This is my commandment, that you love one another.  …as I have loved you."
To illustrate how we have been loved, Fischer asked each attendee to reflect on those who have had the most impact on our lives.  "Remember those people by name and personally reflect on what they did that impacted you.  In my own life I  think the reason for their significant impact on me was because they loved me."
The three and a half hour church service began with a slow processional with banners representing the CEUM and the Covenant.  A combined choir accompanied the banners.  During the service honorary President Duale Lengena gave a long tribute to Paul recounting his call to serve in Congo, his passion to not just care physically
for others when he was in Congo but also for all aspects of the local church and conference, his decision to return to the hospital to care for his patients after getting his wife Lois and children safely across the river into the Central African Republic and then the events of his capture, imprisonment and martyrdom.
Rev. Mumbe grew up at Wasolo where Paul worked.  His father was the Carlsons' cook and he was only three and a half years old when Paul was captured.  He shared a testimony of the stories he heard his parents and others recount, of how Paul continually gave of himself to care for others.  He shared moving details of Paul's return to care for his patients and refusal to leave when others told him to flee.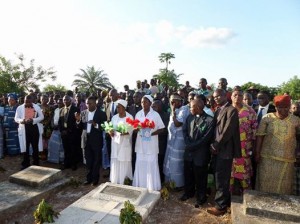 Special services were held throughout the CEUM.  Following the service at Karawa a large delegation went to the cemetery and laid flowers on Paul's grave.  Paul (pictured below) and Sheryl Noren  and Nils Eastburg were a part of this commemoration.
In the evening the film about Paul's life, MONGANGA was shown in both Gemena and Karawa.  As the photos portray the church was packed.  M. Jean-Pierre Zuku did a good job of translating a difficult documentary story from English to Lingala.  The crowd was moved by the scenes and witness of Paul's life.  As the film comes to a close retired Covenant missionary Bob Thornbloom shared the testimony of Papa Sakofio, a leader of the laymen in the CEUM.  Sakofio said, "He was like Jesus who came and lived and worked and died for us.  He came, he lived, he worked and he died, for us."