Sometimes you're on long trips where you're making good progress all the way and sometimes you take a trip when it seems like you're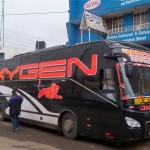 never going to arrive.  Yesterday was the latter for us as it took us 11 hrs 15 min for what is normally about a 7 hour bus ride from Nairobi to Mombasa.  What took place–BAD traffic for the last 15 kms into Mombasa took us 4 hours!  ARRGH!  During that time the driver showed another crazy movie and we waited and watched the crazy traffic as people tried to get ahead only to end up blocking the road again.
Thankfully the bus was nice as you can see.  Pastor Simon got us a special on the price and we were in business class for only 1,700 Ksh ($18).  Very nice.  Everyone on the bus was were served a small juice box, a bottle of water and 2 bags of roasted nuts.
About halfway there was a 3o min stop for bathroom and a quick lunch.  They had ample space to serve buses as 4 were stopped there.
We finally arrived in Mombasa and got a taxi to our hotel, thankful to be here safely even though the trip was very long.