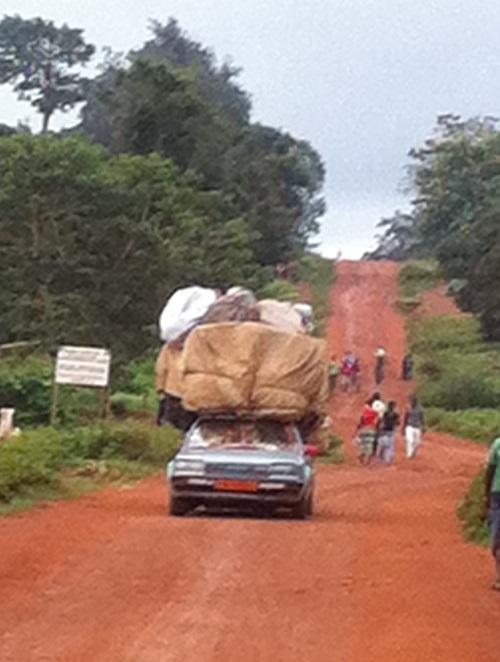 It has been quite a week, with happenings that make me cry out to the Lord, "why, why, why?!?". A Fulani friend of ours lost twins in premature labor before she could even get across the river to our mission hospital where, often, the treatment is much better.  Why did the twins have to die?  Then, another Fulani friend, a sweet young mom who came to our hospital more than a month ahead of her due date, in order to have her baby where she could hopefully have good medical care to avoid the loss she experienced with her previous pregnancy, also lost her baby. Why did Fadi's baby not make it alive into this world? My longtime friend, A'i, who I wrote about recently, finally came for cataract surgery, BUT it turns out it's not that simple.  Instead of cataracts, she apparently has retinal and optic nerve disease of some sort, so she's faced with continued semi-blindness now.  Why, Lord??  Why couldn't she have been astonished and awed with clear vision after cataract surgery??  As we cross the river at least twice a week to visit our M friends, we often help out with rides for those who are coming or going to the mission hospital.  Usually the authorities on each side of the river let us pass peacefully, but yesterday was an ugly exception.  We got an earful about refugees and repatriation and medical care…why, Lord?  How much loss and harassment can this people, who were chased from their homes 2.5 years ago, take?  We have many friends among the Fulani, and we enjoy each other immensely, but we have yet to have any but one take a true interest in the story of the Messiah.  Why, God?!?
The burdens come close to overwhelming me at times, as I try wrap my head and heart around what happens to my friends. Of course add to this all the fact that my hubby is in Yaounde on business. Then, just as I feel it's too much, my reading for the day is Psalm 42!  Take a couple of minutes and read it if you can, but here are the phrases that spoke to me:
My soul thirsts for God…while men say to me all day long, "Where is your God?"…deep calls to deep…all your waves and breakers have swept over me…By day the Lord directs his love, at night his song is with me-a prayer to the God of my life…Why are you downcast, O my soul?  Why so disturbed within me?  Put your hope in God, for I will yet praise him, my Savior and my God.   – excerpts from Ps. 42
Put your hope in God. Yes, I will put my hope in the One who is faithful, the One who is my Savior, and fervently pray that others might have that same hope.
Thank you for your prayers, for tough times.  I will yet praise Him.