Can't you just imagine God looking at you sometimes, just like this?  What do you see?  Joy, love, amusement, maybe even a little smirking with pride,…?  I think of God being right there, comfortably swinging next to us on our swing, looking at us with hope and love while we look in the other direction.  This little strawberry blonde beauty is so very secure in her Papi's love and protection for her.  Even though there is a space between them on the swing, she KNOWS he is there.  Even though she is looking away from him, she KNOWS he is there for her.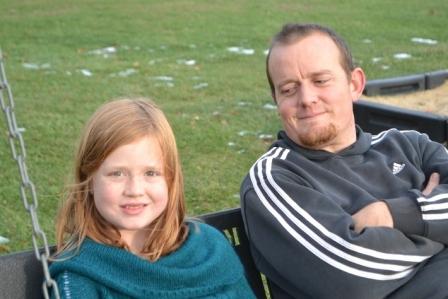 I have to tell you, I have been blown away watching our sons and daughters-in-law be parents to our grandchildren.  So many times I am struck by images of how the Lord is with us when I see our kids help, play with, teach, and just plain old interact with our grands.  Like Him being a comfort to us when we're devastated, being a presence in our joys, being the God who made the world just for us, who gave his life just for us, who looks on us with love and anticipation of our next move, hopefully in his direction!
Thank you, Josh, Kimia, Sam, and Anna, for being the best parents you can be and for teaching your kids about the Lord who loves them so much!  You make my heart soar like a hawk!