Our dear friend and colleague, Dalene, has passed away, right on the heels of our buddy, J's, death.  Dalene was one of those sweet, quiet, in the background women.  Even when she was feeling poorly, she seemed to come up with a smile and the energy to make others feel welcome to her little palm leaf walled home.  She had a servant heart, and was a good and caring mom to a flock of children she married into, very unlike the usual adoptive parents that we have known.  Her absence in the little town across the river from our home in C.A.R. will be a great loss to many, but especially to her husband, Pastor B.  Our Fulani friends could always find a listening ear and a warm welcome at their home.
Please pray for Pastor B, for their family and friends, and especially for the Fulani there, that they would understand that Dalene has gone to be with the Lord, only because she believed He was her Lord and Savior.  Peace to her memory.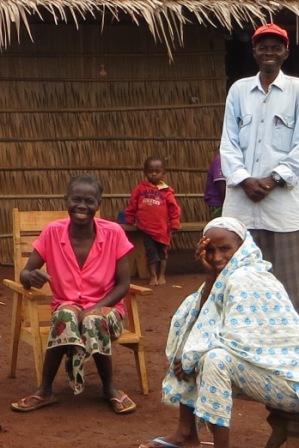 Dalene is the one in the pink blouse, with a Fulani neighbor sitting next to her and her husband, Pastor B, standing on her left.