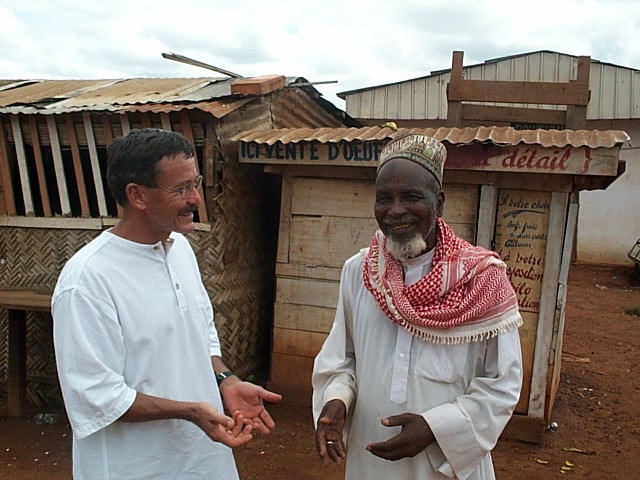 Our dear, dear friend, Chief Tambaya, passed away on Sunday morning.  He was an amazing man – so loving and kind and funny and welcoming.  Never did he throw his weight around; he was a respected leader in the community and he led quietly.  We will sorely miss him.  We know that many of you have prayed for him over the years, and we leave him in God's hands.  It is a very hard thing to say goodbye to a loved one in any case, but especially hard if you don't know if you'll see them on the other side.  At one point in time, while sitting around chatting with him, we guessed that his age was about the same as my dad's, making him a whopping 88 years old this year.  He had been pretty much bed ridden and often times confused over the last few months, but had been lovingly cared for by his family at home, never needing to go to hospital.  He leaves 3 wives and ever so many grieving children and grandchildren and great grandchildren behind, and we ask that you keep his name in your prayers – to pray for his family.
As I was sitting with the roomful of women and children who had gathered in his memory, I was again struck by the quietness of their mourning.  Many had tears run down their faces, but if anyone started to make a fuss, they were shushed and patted, being told that it was God's will and who among us can fight against that?  Such a mega difference between this tribe and others we live among.  The others scream and wail, which I think is more healthy in the long run.  I vividly remember the difficulty I had when my dad died 3 years ago, actually finally crying and sobbing out loud all the way home from LAX after having dropped of Josh then Sam to fly home to their families.  I had tucked the pain deep, and it finally erupted.  As we grieve the loss of our friend, I know that the tears will come and go especially as I come in contact with his kids who are my buddies.
May the Lord have granted him a vision in his last moments, calling him to himself!  Peace to his memory.