How do I convey to you what I feel so deep down?  Our journey over the past 2 months, yes!, 2 months already!, has been a revealing one to me, about myself and my passion and my fear.  Many many years ago my sweet daughter-in-love, Anna, asked me what my passion was.  I found it hard to respond with a one subject answer, as my heart prayers go out for so many different reasons.  Well, this past week or so, after Roy and the others' great trip to Gamboula, I have been dealing with my passion for seeing my Fulani buddies come to know the Savior.  AND dealing with my fear of the unknown.  I have decided to choose going for the passion.  To quote a devotional, which was dealing with Acts 16:25-34, that I read as I was prayerfully considering this unknown factor facing us, "I wonder what opportunities I have missed when I have chosen release from hardship over sitting tight with God."  I am not saying we should have stayed, like Paul & Silas in the prison, and let the renegade rebels (not the ones who are at Gamboula right now) take all 9 vehicles that we left with on March 24th. That would have been horrible stewardship and foolish exposure of many families to a traumatic situation, even without violence to our persons.   No, I am saying that I am choosing to return, and there is a very remote possibility that we will again face hardship, in order to share the gospel.
Here we are, safe in Yaounde, when, because Gamboula is such a blessed pocket of peace at least for this time, we really could be there.  Yes, there are still reports of violence in other cities, and it seems that anarchy still reigns in some parts, but we have a window of opportunity to go back, at least for a short 2 week stay, to test the waters.  We have heard a reconfirmation that banks are opening their doors, and we hear every day from our Swedish colleague, Rose-Marie, who is living at Gamboula, that all is well there.  Schools are in session and the hospital is functioning, though we do still have the presence of the rebel forces in control.   Their leader has been welcoming and friendly and very careful to keep the peace, but if we go in, we will go in with our eyes wide open, knowing that something could take a turn for the worse.   We would really appreciate your prayers, for wisdom for us for the choices we make, for optimum use of our time, for continued rebuilding of peace in the country.  Thank you for being alongside us on our wild ride!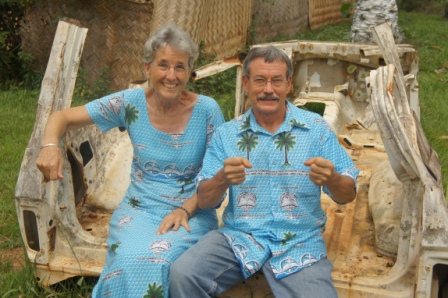 We love you and appreciate your prayers!