One of our good Fulani friends asked us to drop in and see her grandson with a broken leg after our Thursday meetings a couple of weeks ago. The 4 year old had been roughhousing with his friends and siblings when he fell and broke his leg. A local healer splinted the leg and the boy has been kept pretty immobile. I had my doubts the first time I saw this type of treatment – I urged my other friends to take their daughter to our hospital for an xray and a good sturdy cast. Well, that young lady, Siwto, runs and skips and walks just like her twin sister today, without benefit of plaster of Paris. So I have good hope for the healing of this little boy's leg. The really interesting thing about him, though are his bright blue eyes! Apparently he has an older brother and an uncle with the same blue eyes, which Paul Noren (who majored in anthropology) says suggests a recessive gene popping its head up after umpteen years' distance from their ancestors in the Middle East and Egypt.
Here he is, you can see how they've wrapped his leg – two weeks ago there were sticks all around the wrapping, splinting the bone.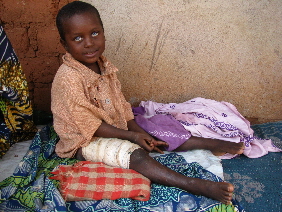 Look at those eyes!! Striking!