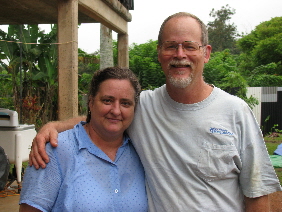 Kim & Jan – sorry, Jan isn't looking as happy as she might in this photo, but I caught them in the midst of work and snapped the photo quick!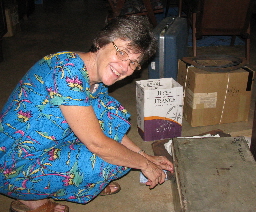 Ann, trying to open a well used and well secured trunk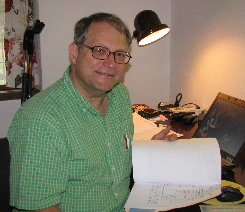 Tim at the computer, busy busy busy already
Tim & Ann Wester and Kim & Jan Cone arrived to Gamboula on Friday afternoon, and boy are we glad to see them. It is so great to have them back with us again. Poor Tim didn't even have a full day to get settled before he got called to do surgery. He has been down at the O.R. quite a bit, and the patients and their families are grateful he was able to help out. One of the patients was our old head ag guy, Constant. He's doing well now, after emergency intestinal surgery.
Both couples are making headway on unpacking, though the Cones will have a bit tougher time of it as their belongings are stored in a container 60 miles away. They will have to make quite a few trips pulling a wagon to get all their stuff here to Gamboula.