Daily Archives:
June 5, 2010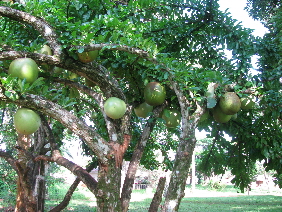 On my walk to the hospital every morning, I pass this wonderfully strange tree. The huge fruit are gourds, non-edible, but very useful all the same. Here's our friend A'isaatu, with two halves of this type of gourd, dried and …
Yes, well, last Sunday was Mother's Day in Europe and should have been here in C.A.R. I guess the powers that be in this area didn't have their bouquets picked and their chiffon pie made yet, smile! Seriously, the local …
Posted in
Mission
Comments Off

on Postponing Mother's Day?!?